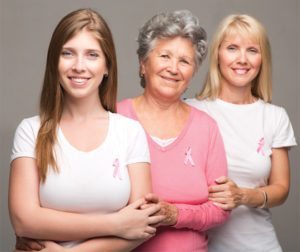 Regardless of age, race or family history, all women – and about 1 percent of men – have some level of risk for breast cancer. Primary risk factors include age and gender, along with a number of other factors such as obesity and alcohol use, which can be moderated through healthy lifestyle choices.
Can Breast Cancer Be Inherited?
Certain types of breast cancer do seem to run in some families; however, it is important to note that what is inherited is the abnormal (mutated) gene that could lead to breast cancer, not the cancer itself. The most common genetic risk factors for breast cancer are in women who have a mutation to the BRCA1 and BRCA2 genes. Women with this inherited gene mutation have up to an 80 percent chance of developing breast cancer during their lifetimes. If you have a close relative (mother, sister, daughter, etc.) with breast cancer, you should speak with your doctor about genetic testing.
Early Detection
Identifying any type of cancer at an early stage before it has spread extensively (metastasis) provides a much better outcome for patients. Florida Cancer Specialists' physicians concur with the American Cancer Society's recommendation that women over 40 with no family history of breast cancer should get a mammogram once a year; for women under 40, a clinical breast exam is recommended at least once every three years. In addition, monthly breast self-examinations can be an effective way of discovering any changes in the normal look and feel of the breasts.
New Findings Offer Guidelines for Chemotherapy
Today, there are many types of effective treatments for breast cancer including surgery, chemotherapy, radiation and hormone therapy, to list a few. Results of a recent study released in June 2018 confirmed with better accuracy which patients will benefit from chemotherapy and which will not. It is now estimated that, because of this new understanding, about 70,000 breast cancer patients can safely skip chemotherapy. The study was recently published in the New England Journal of Medicine (NEJM) and, according to it's findings, almost 70 percent of women with early stage breast cancer and an intermediate risk of recurrence can now safely skip chemotherapy after their tumors have been surgically removed.
Over 10,000 patients in the clinical study received a genomic test that estimates the individual risk that cancer will recur. Known as gene expression testing, this assessment helps determine which breast cancer patients are most likely to benefit from chemotherapy following breast surgery.
Those with a high-risk score (above 25) were advised to have chemotherapy and hormone therapy, which is standard treatment; those with a low-risk score (0 to 10) would still need hormone therapy, but could forego chemotherapy and avoid its sometimes harsh side effects.
Prior to this study, the group of patients with test results in the intermediate risk range (between 11 to 25) did not have a clear course of action with regard to chemotherapy; however, the results of the study found that, within the intermediate-risk group, all women over 50 whose tumors responded to hormone therapy and tested negative for the HER2 gene had no significant benefit by adding chemotherapy and could safely skip it.
Chemotherapy did offer some benefit for those 50 and younger who had a recurrence score between 16 and 25.
Florida Cancer Specialists is proud to have participated in this study. Its findings provide more certainty about which patients in the intermediate-risk group need chemotherapy and which do not. This is just one example of the incredible benefit that clinical research brings to both current and future
cancer patients.
Florida Cancer Specialists treats patients with all types of cancer and offers a number of services including an in-house specialty pharmacy, an in-house pathology lab and financial counselors at every location, all of which deliver the most advanced and personalized care in your local
community.
Bonita Springs
9776 Bonita Beach Rd SE,
Suite 201A
Bonita Springs, FL 34135
Naples – Napa Ridge
6360 Pine Ridge Road,
Suite 201
Naples, FL 34119
Naples – Sierra Meadows
8350 Sierra Meadows Blvd
Naples, FL 34114
Naples West
681 4th Ave North
Naples, FL 34102
Naples – Goodlette
1100 Goodlette Road
Naples, FL 34102