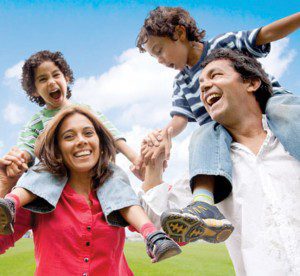 Dr. Todd Wickmann of Lifestyles Chiropractic truly believes in the mission of the office: Whole Body, Whole Family, Whole Life. "One of my favorite quotes regarding health refers to the fact that some people seek miracles for their health which would defy the laws of nature and yet they take for take for granted the fact that their bodies automatically obey the laws in the first place." According to Dr. Wickmann, the human body and the way it has the ability to heal itself is the greatest miracle in all of health care.
"I believe that you and your family were created to be made physically, emotionally and spiritually whole. Whether you're just warming up or preparing to take your victory lap, everyone has the right to a whole life. I am here to facilitate those who wish to take that opportunity."
How does Dr. Wickmann and team practice what they preach and live the Whole Body, Whole Family, Whole Life-style? There are three key factors that you must understand and exercise to achieve true wholesome health.
1) Move Well – Regular chiropractic care and exercise. One without the other, and you get less from both.
2) Eat Well – Hippocrates said, "Let food be your medicine and let medicine be your food." Like medicine, food has side effects for good and bad.
3) Live Well – Faith, Family, Work and Fun.
At Lifestyles Chiropractic, patients enjoy state of the art chiropractic facility and discover the true wellness lifestyle! "By educating patients on the three factors listed above, they learn the natural way to better health without resorting to the use of expensive prescription medications." Dr. Wickmann and team are convinced that after one visit to the office you will see why chiropractic is the safe and effective alternative to surgery.
Chiropractic care offers a whole host of solutions to help you get over your current condition and feel better than you have before! Chiropractic care covers a wide range of issues including neck pain, back pain, numbness, sciatica, sports and repetitive motion injuries, and much more! The Lifestyle Chiropractor doctors are members of Great Doctors of Chiropractic and have helped many in the Fort Myers area experience natural healing without surgery or drugs!
Dr. Wickmann knows that education is vital to sustaining whole body health and living. While treating patients, a primary goal is to teach them about the importance of a healthy lifestyle, including exercise, diet, and nutrition. Visit Lifestyles Chiropractic and see for yourself why it is different from other healthcare providers in Fort Myers. Chiropractic can make a difference in your life! If you are interested in your long-term health and wellness, not just a quick fix to mask back pain or neck pain, this is the place for you!
Lifestyles Chiropractic is conveniently located in south Fort Myers. Call 239-334-9355 and take your first step towards better health today!