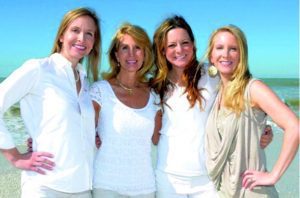 More than 9 million people in the US are living with some form of dementia. Alzheimer's is one of the main forms of the disease, but there are many different  varieties  facing our population. Often times, it may be unclear exactly what type of dementia a patient has, but the commonality between them all, is that it's related to a biological brain condition and some form of damage to the brain's inner communication.
The signs and symptoms of dementia are different for every patient, but common indicators are as follows:
• Forgetfulness, especially short-term memory
• Change in personality
• Agitation/Frustration
• Difficulty with daily tasks
• Social withdraw
• Sundowning/Sleeplessness/Restlessness, especially in the evening
Not only is it extremely difficult for the patient suffering from dementia, but it's just as challenging and upsetting for the caregiver and for loved ones that see the changes in the personality of their family member.
Patients with Dementia usually have the most difficulty with short-term memory, so while the caregiver may be asking about something that happened only moments ago, the patient may not remember, and that can be extremely upsetting.
On the other hand, many dementia patients have extraordinary long-term memory, so asking them about events and having them tell tales of when they were younger can be helpful and fulfilling to both the family and the patient.
Most types of dementia are progressive, so even with treatment and medication, the patients
will continue to get worse with time. This is not only hard to accept, but this can be extremely challenging for the caregiver. Watching their loved one struggle with the disease, can make them feel completely helpless at times, because there is no way to get through to their loved one, or change the circumstances of the diseases development.
The emotional frustration can take a great toll on the caregiver. On the contrary, many of these same struggling caregivers take great pride and have an increased sense of worth and strength from being able to give their loved one what they need, such as taking over household chores, making meals, or bathing and dressing their loved one.
Along with all of the aforementioned details, caregivers need to take a break from time to time. That's where skillfully trained medical professionals can help. They can provide respite for the caregiver, allowing them time for themselves. Knowing that their loved one is being well cared for by professionals that completely understand the disease and the correct steps to support them, caregivers can rest at ease and do something enjoyable for themselves, or just simply get away from the distressing illness for a while to decompress.
At Home Care Preferred, (a superior home health care company) they can offer the committed support that caregivers and patients need.
They understand the disease and its symptoms.
They take every patient's case personally and establish a unique plan that works best for the entire family, including the patient.
When caring for people with dementia, Home Care Preferred always creates a sense of calm for the patient, making sure they are cared for within a serene comfortable environment.
Because it has been reported by AARP that 89% of patients want to remain in their home, Home Care Preferred provides private supportive care for those who want to maintain their independence, yet need some form of assistance.
In addition to coming to your home, they are available to support their clients with temporary stays in the hospital, Senior Care facilities or wherever help is needed.
Serving all of Collier County and Lee County, including Marco Island, Naples, Port Royal and
Fort Myers in Southwest Florida, the Home Care Preferred caregivers include Companions, Certified Nursing Assistants (CNA's), Home Health Aids (HHA) and Registered Nurses (RN's). You can rest assured that their staff is trustworthy, insured, and have extensive background checks. Home Care Preferred can make caring for your loved one with dementia a promising and favorable experience for everyone involved and in turn, give you the
necessary respite that you require.
If interested in fighting this devastating disease, you can get involved further with a national
fundraising walk on Saturday, November 191h at the 2016 Walk to End Alzheimer's – Naples, Collier County, FL. Registration 8am and the walk is at 9am.
For more information on Home Care Preferred, please visit their website at www.FloridaHCP.com
Home Care
PREFERRED
(239) 302-9090 or (239) 900-4141
Long Term Care Insurance Accepted