Great vision. Designed with your comfort in mind.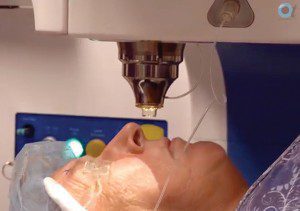 The cataract laser technology of tomorrow is here for you today. The VICTUS laser offers new levels of safety, accuracy, and predictability to cataract surgery.
The science of cataract surgery is getting better all the time. Innovative technology designed to make the procedure more accurate and comfortable is now available! You may qualify for a new surgical method designed to provide you with the full potential of precision laser technology. Plus, new, more advanced options for lenses gives you more choices than ever before.
What is a cataract?
A cataract is a clouding of the lens of the eye. This blocks light from reaching the back of your eye, making it difficult to see clearly.
Who gets cataracts?
Cataracts are a natural part of aging, but you don't need to be a senior to get a cataract. Many people in their 40s and 50s have early cataracts that don't affect their eyesight yet. Regardless of your age, the time to talk to the doctor is when cataracts start to interfere with your vision.
How safe is cataract surgery?
Cataract surgery is one of the most common operations in the world. It is often outpatient surgery, and you remain awake.
What happens if I need both eyes done?
If you need cataract surgery in both eyes, the doctor will talk with you about the best time to schedule surgery for each eye.
When will I need cataract surgery?
Deciding when to have cataract surgery depends upon how well you can see during routine activities. You may be able to drive, watch TV, and work at a computer for quite a few years after you are first diagnosed with cataracts.
Some cataracts are mild and don't affect your vision. But when cataracts start to cause vision problems-such as when you are driving-it's time to discuss your options with the doctor.
What happen on the day of my cataract surgery?
Cataract surgery is usually an outpatient procedure. On the day of surgery, you will be given some medicine to help you relax, plus special numbing eyedrops to ensure that your surgery is as comfortable as possible. The surgery itself takes only a short time. You'll be ready to go home after a short stay in the recovery room. Be sure to have someone with you who can drive you home.
What can I expect after my cataract surgery?
You may be given eyedrops to use every day for the next few weeks. You should wear sunglasses during your recovery to help protect your eye in bright light.
How soon after cataract surgery will I be able to see better?
You may notice an improvement in your vision almost immediately after surgery, although some people do experience blurry vision for a few days.
At Konowal Vision Center, it is clear that the focus is on you.  Thanks to new advancements, this is a great time to have cataract surgery. Schedule your appointment today by calling 239-948-7555.
KONOWAL VISION CENTER
9500 Corkscrew Palm Circle #3, Estero, FL 33928
239.948.7555
www.DrKonowal.com