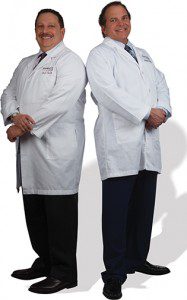 I am pleased to announce that Jeffrey B. Robin, MD, has joined my medical team at Frantz EyeCare as a LASIK surgeon, laser eye specialist and comprehensive ophthalmologist.
Dr. Robin has performed over 65,000 laser vision correction procedures during more than 20 years in practice. He has traveled to more than 30 countries to perform and teach vision correction surgery and has been designated by Best Doctors of America as a Top Doctor for several consecutive years. Additionally, his extensive qualifications and experience place him among the top one percent of LASIK laser eye surgery and refractive surgeons in the United States.
An extensively trained and experienced ophthalmologist, Dr. Robin specializes in corneal diseases and surgery and refractive surgery. He has worked successfully in many ophthalmology scenarios, including academic, VA, private practice, and corporate. He has authored more than 100 peer-reviewed articles and has delivered thousands of lectures and seminars at ophthalmology meetings around the world. He is an internationally recognized refractive surgeon and was extensively involved in the development, growth and leadership of the International Society of Refractive Surgery, of which he is past president.
In addition to performing LASIK surgery at Frantz EyeCare, Dr. Robin will also see patients for eye conditions such as glaucoma, diabetic eye disease, dry eyes and pterygiums.
Dr. Robin received his Bachelor of Science from Pennsylvania State University and Medical Degree from Jefferson Medical College in Philadelphia. After completing an internship at Harbor-UCLA Medical Center and ophthalmology residency at Georgetown University Medical Center in Washington, DC, Dr. Robin completed Fellowships in Cornea and External Diseases at Estelle Doheny Eye Foundation at the University of Southern California and LSU Eye Center at Louisiana State University School of Medicine, where he also did a Fellowship in Ocular Virology and Immunology.
Among his numerous professional societies, Dr. Robin is a member of the American Academy of Ophthalmology, the American Society of Cataract and Refractive Surgery, and the International Society of Refractive Surgery.
Frantz EyeCare and area residents are extremely fortunate to have a surgeon of such high caliber in the field of LASIK and refractive surgery right here in southwest Florida. Together with our team of ophthalmologists and optometrists, Frantz EyeCare has a medical team that is second to none in our area.
Dr. Robin will see patients at all five locations of Frantz EyeCare.
To make an appointment online, visit www.bettervision.net or call the Punta Gorda office of Frantz EyeCare at 941-505-2020.
Jonathan M. Frantz, MD, FACS, is named in The Guide to America's Top Ophthalmologists. He and his team of doctors at Frantz EyeCare offer a broad spectrum of patient-focused comprehensive care from eye exams and eyewear to bladeless laser cataract removal, treatment of eye diseases, bladeless iLASIK laser vision correction, and eyelid surgery with office locations in Fort Myers, Cape Coral, Punta Gorda, Lehigh Acres, and Naples.