By Dr. Patricia Land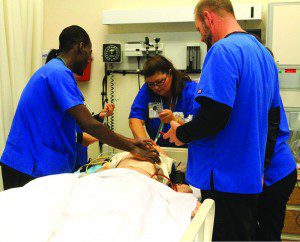 In this day and age, most students coming out of high school go directly into college, and there are so many colleges, degrees and programs to choose from. With so many options for advanced education, many graduates stay and settle in the areas in which they studied to build stronger and better communities. I had the opportunity to be impacted by students who have made our community better and stronger.
One beautiful summer afternoon in late July of this year, my life changed dramatically. I was trying a new marinade and had food on the grill for a delicious dinner. As I worked in the kitchen, I pivoted to leave the room and check the progress of my dinner on the grill, my ankle froze but my leg did not. That incident caused me to snap three bones in my ankle, where I then fell directly on my knee, fracturing it in many pieces.
It was quickly apparent that I wasn't going to be able to get up on my own, and I was not able to locate my cell phone. Fortunately, I was able to slide over and reach the land line to call 911, and then was able to slide over to unlock the front door as I waited for help.
When the medics arrived, they not only addressed my injuries, but also helped me locate my cell phone and extinguished my grill before taking me to the hospital. They were kind and skilled in managing my discomfort as much as possible. Since the college I work with, Florida SouthWestern State College (FSW), offers such a wide variety of health science degrees, I have developed a routine to always ask what college various individuals attended. I wasn't surprised to hear that these kind medics were FSW graduates. I know the rigorous training FSW paramedics are put through at our institution, and I felt very secure that I was in good hands.
Upon reaching the emergency room at Fawcett Hospital, I felt as if I had joined a health professions reunion. A number of FSW nurse graduates and current students assisted me, again with the highest demonstration of professionalism and competence. I know that our institution, as well as others in our region, help students to advance in their careers and their personal goals, and it was such a treat to see the results of that, however, I would have preferred to visit under more positive circumstances.
During the subsequent two months, I encountered still more students in home health positions or in businesses as my wheelchair and I navigated a retail store. I'm in the home stretch now, going to physical therapy 3 times each week and seeing former students accomplishing their goals.  With continued progress, I hope to shed my walker for a cane in the very near future.
Supporting our local colleges and universities is important to mold the decision makers of tomorrow, but it is even more important to have them choose our community as their home.  The skills and expertise they learn here then benefit the local area, and help to build a stronger community now and in the future.
Dr. Patricia Land is the Charlotte Campus President/Regional Vice President Economic and Community Development at the FSW Charlotte Campus. She can be reached at (941) 637-5682 or by email at pland@fsw.edu.