By Thom Braun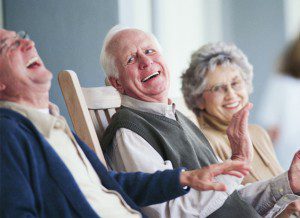 The well-known adage, "you're as young as you feel", now has the support of medical science. A recent study has found that seniors who reported they felt three or more years younger than their actual age lived longer than their counterparts who felt their full age or older.
The research was published in the journal, JAMA Internal Medicine, and highlighted the results of a British study. Despite accounting for chronic health problems and difficulty with mobility, the group that felt "young at heart" outlived their peers.
There are numerous opportunities to stay invigorated and active, including the following:
1.    Seek Out New Opportunities
Perhaps you've always wanted to tap into your creativity by attending an art class or maybe you're interested in learning a foreign language. Research shows discovering a new interest, regardless of age, can have tremendous benefits on the heart, body and mind. The fear of failing often holds people back from trying unfamiliar activities; however, the rewards of uncovering a newfound passion far outweigh the perceived risks.
2.    Participate in Intergenerational Activities
A study, Older Adults and The Rewards of Giving, found intergenerational activities, foster valuable learning relationships and understanding. From their years of experience, older adults have much more to share about living life well, caring for others and setting priorities. In turn, children's relatively unimpeded take on life—their curiosity, impulsiveness and sensitivity—offer older adults a fresh lens through which to view the world.
3.    Surround Yourself with Others Who Enjoy Life
There are numerous studies citing the health benefits associated with socializing; however, there is something to be said about being with others who truly uplift you and bring joy and happiness to your life. Happy people make us feel happier and this creates an "upward spiral" of happiness.
4.    Laugh Often, Long & Loud
Experts suggest older adults take a cue from children who laugh on average over 400 times per day. Adults typically laugh only 15 times daily. Try to find the humor in every situation. A good laugh has a measurable impact on stress. While stress can raise levels of the hormone cortisol—known to affect memory and learning ability among older adults—laughter reduces it.
5.    Forget Your Age and Act Like Yourself
When was the last time you did something really fun or an activity that defied the behavior expected of an older adult? From competitive sports teams for seniors to participating in a talent show, there are endless opportunities to prove that age is nothing more than a number!
At The Carlisle Naples, a luxury senior living community, residents truly are "young at heart". Our community offers unlimited possibilities for enrichment and engagement and residents find this appealing
and a key factor in successful aging.
Our monthly activity calendar is jam packed with educational classes, volunteer opportunities, intergenerational concerts and special events. Our highly anticipated annual Summer Olympic Challenge enables residents to tap into their competitive side (and inner youth) to vie for bragging rights in games such as basketball and a spelling bee.
"The Carlisle provides the perfect environment for residents to be as active and engaged as they wish," said Executive Director Bill Diamond. "Our residents are thrilled they made the decision to move to The Carlisle while they are still able to take advantage of our robust calendar."
Located at 6945 Carlisle Court in Naples, The Carlisle offers spacious one-and two-bedroom residences include lifetime care and maintenance, weekly housekeeping and flat linen services, basic cable TV, all utilities except telephone, and a complimentary full breakfast plus choice of lunch or dinner in the community's gourmet-style restaurant. For more information about the community, please call 239-221-0017 or visit www.TheCarlisleNaples.com.
The Carlisle, a luxury, resort-style senior living community in North Naples, offers both Independent and Assisted Living lifestyles. Available on a monthly fee basis, the ECC-licensed and CARF-accredited community boasts a full range of services and amenities including 12-hour restaurant dining, housekeeping, transportation and activities. Located on Airport-Pulling Road, between Pine Ridge and Immokalee Roads, the award-winning community's lush tropical environment is highlighted with meandering walking paths around three lakes and tranquility gardens. For more information or to schedule a tour, please call Director of Marketing Thom Braun at 239-221-0017.
Luxury Rental Retirement Living
6945 Carlisle Court, Naples, FL  34109
239-221-0017 . www.srgseniorliving.com