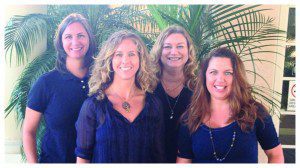 Our Speech Language Pathologists (SLP's) love to celebrate Speech Therapy month by spreading the word about how WE can benefit YOU or your loved one. Speech Language Pathologists diagnose and treat a multitude of issues including swallowing difficulties, voice  disorders, lip and facial weakness, clarity of speech, and cognition (including memory, logical thinking/
reasoning, and problem solving).
Here at Life Care Center of Estero, we typically treat patients with Swallowing disorders, also called dysphagia (dis-FAY-juh), occurring in one or all of the following  stages: Oral phase which includes chewing and moving food or liquid into the throat, Pharyngeal phase which starts the swallow squeezing food/drinks down the throat and closing the airway preventing choking or any food/drink from entering the airway (called aspiration) and the Esophageal phase which relaxes and tightens at the top and bottom and squeezes food/drinks into the stomach.
We are proud to say that we now offer a NEW, fundamentally different approach for the treatment of dysphagia with true Neuromuscular Electrical Stimulation (NMES) using The Guardian Way Stimulator can yield positive outcomes for patients to swallow with less difficulty and decrease risk of aspiration. Guardian therapy is painless and non-invasive and provides the brain with cortical re-organization and muscle re-education in a swallowing sequence pattern that makes sense.  To speak to one of our SLP's or to make an appointment, please call our outpatient therapy department (239) 495-4046.
Life Care Center of Estero| 239.495.4000 | 3850 Williams Rd. | Estero, FL 33928 | www.LCCA.com