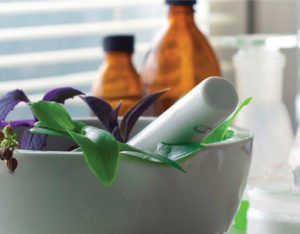 Sarasota Specialty Pharmacy and Wellness Center is an independent, family owned pharmacy that has served the Sarasota community for over 40 years. We specialize in meeting patient's needs through innovative compounding. Our compounding pharmacists work with physicians, veterinarians, dentists and other health care practitioners to prepare patient specific medications. Our compounding services allow us to create formulations in unique strengths and dosage forms.
Compounding
Compounding combines an ageless art with the latest medical knowledge and state-of-the-art technology, allowing specially trained professionals to prepare customized medications to meet each patient's specific needs. Compounding is fundamental to the profession of pharmacy and was a standard means of providing prescription medications before drugs began to be produced in mass quantities by pharmaceutical manufacturers. The demand for professional compounding has increased as healthcare professionals and patients realize that the limited number of strengths and dosage forms that are commercially available are unable to meet the unique needs of many patients. These patients may have a better response to a customized dosage form that is "just what the doctor ordered".
Our compounding professionals can prepare
• unique dosage forms containing the ideal dose of medication for each individual.
• medications in dosage forms that are not commercially available, such as transdermal gels, troches, "chewies", and lollipops.
• medications free of problem-causing excipients such as dyes, sugar, lactose, or alcohol.
• combinations of various compatible medications into a single dosage form for easier  administration and improved compliance.
• medications that are not commercially available.
Quality Compounding Maximizes Therapeutic Outcomes
The efficacy of any formulation is directly related to its preparation, which is why THE SELECTION OF YOUR COMPOUNDING PHARMACY IS CRITICAL. Ongoing training for compounding pharmacists and technicians, state-of-the-art equipment, and high-quality chemicals are essential. Experience and ingenuity are important factors as well. When modifying a formula or developing a unique preparation, the compounding pharmacist must consider physical and chemical properties of both the active ingredient and excipients, solubility, tonicity, viscosity, and the most appropriate dosage form or device for administering the needed medication. Standard Operating Procedures should be in place and appropriate potency testing should be performed.
Our compounding professionals can formulate suitable medications as sublingual drops, oral and nasal sprays, lollipops, rectal solutions and suppositories, and other customized dosage forms. Please contact us to discuss your needs and medication problems.
We offer a complete line of pharmaceutical grade nutritional products including Metagenics, Pure Encapsulation, PhytoPharmica and we are the exclusive pharmacy Xymogen dealer in Sarasota.
How Do You Know if You're taking the Right Supplements and Vitamins?
What is Nutrigenomic (DNA) Testing? It's a simple test that requires swabbing the inside of our cheek with a soft bristled swab. This provides the DNA to access your genes and receive results. It takes 7-10 days for results. This personalized report is a comprehensive solution for safer and more targeted nutritional recommendations based on the individual's DNA. This test is only available through Genomix Nutrition Approved Providers.
More than 75% of all patients have significant genetic variations in the most important nutritional metabolism pathways. Why spend your money on nutritional supplements without scientific proof of nutritional need or benefit?
Micronutrient Testing
Are you taking too many supplements? Not enough? Nutritional status is a vital foundation of health and performance. SpectraCell's micronutrient testing is an innovative assessment of nutritional status. Unlike traditional serum, hair and urine tests, SpectraCell's tests evaluate how an individual's white blood cells respond to varied environments of over 33 vitamins, minerals, amino acids and antioxidants. As a result, individual differences in metabolism, age, genetics, health, prescription drug usage, absorption rate or other factors are taken into consideration.
Saliva and Blood Spot Testing
At Sarasota Specialty Pharmacy, we offer minimally-invasive hormone testing. The simplicity of sample collection, using saliva and blood spots, and the stability of samples in storage and transport make these tests very reliable. Our pharmacist will work with your practitioner to determine which tests are necessary for you.
Sarasota Specialty Pharmacy Can Help You Destress with Hypnosis Sessions
Rx Hypnosis for Reducing Stress, Goal Achievement, Confidence, Performance Enhancement, Public Speaking, and more is available at Sarasota Specialty Pharmacy. Free Initial Consultation by appointment only.
We also specialize in Bio-Identical Hormone Replacement Therapy and offer private consultations by appointment. Your Options with Sarasota Specialty Pharmacy are numerous! Stop by and see us today!
Sarasota Specialty Pharmacy
Call 941-366-0880 or visit sarasotarx.com
2075 Seista Drive
Sarasota, FL 34239