Emilio Ángel Sánchez Vicario is a former professional tennis player from Spain. He won three Grand Slam doubles titles and the men's doubles silver medal at the 1988 Olympic Games.
Some of his other accomplishments in the world of tennis were as follows: # 7 ranking in ATP for singles and #1 in doubles, The 3rd best doubles in history with Sergio Casal,12 years representing Spain as a player of the Davis Cup, Davis Cup Winner as a Capitan of the Spanish team, Gold medal in China JJOO as a Capitan of the Spanish team 2008.
Emilio is now CEO of the Sanchez-Casal  Academy And Tennis Club in Naples Florida. When Emilio was 6 years old his parents moved to Barcelona, they looked for a club to meet people and they found one that was very promising. The club had lots of sports, tennis, soccer, golf, horseback riding. When Emelio turned 8 his parents registered him into the tennis school there where he quickly developed his passion for tennis.
Since then he has been playing tennis all his life. He is thankful  because he grew playing in a club with other kids that today he is still friends. It was Emilio's school of life. Tennis was his  profession for 14 years and has made him the man he is today. After quitting professional tennis he decided to use tennis as a vehicle to educate young kids and share his knowledge and skills of the sport with families during the difficult journey of raising kids in today's world. "Tennis is such a demanding sport in all aspects of the game. Technically, tactically, physically, emotionally, mentally and spiritually. Good fundamentals are needed to develop a champion" stated Sanchez. If you are missing one component  along the way you will never make it. "So that is why I'm so in love with tennis, it's the best life school anyone could ask for ".
When he first founded his  tennis Academy in Barcelona he looked for a mission statement that put together all the facts and came up with "Creating opportunities through tennis, education & life" After 15 years he is very proud of the success of the academy and today he can say that his academy has created some of the best players in the world.
He is also very proud of the students that finished up their  tennis careers   then went on to College for their studies and  now have incredible jobs with top companies. But Emilio wanted more. His academy in Barcelona was successful but he knew he needed to focus on Florida where tennis was widely popular.
Emilio and his family came to Naples to open the Academy in 2012. To Sanchez tennis was like a drug, once it touched you it was very difficult to stop the passion. When he first moved the Naples area he realized how much tennis meant for so many in the community. Seeing older players still playing with such drive and passion for the sport well into their 70's is a great site to see. Tennis will always be part of Emilio's life.
Tennis is one of the most difficult sports but can also be one of the most rewarding. A person can play it from 3 years of age to a 100. Tennis drives you to the edge. More than anything tennis is excellent exercise and a great mental awakener that forces you to  learn to read the opponent and that is key in anything in life.
Tennis has kept Emilio grounded and has helped him have a better connection with his own children as well as his students. "Tennis is my best friend and I do not know where I would be without it".
From beginners looking for some basic tennis training to high-level players looking to bring their game to the next level, including casual players planning to enjoy tennis with friends.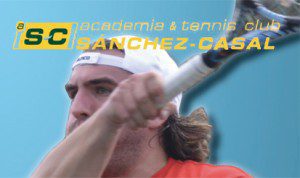 Sanchez-Casal has all the wonderful facilities that any tennis lover could ask for.  Fitness is an integral part of the daily program at the tennis academy for both junior level as well as the adults.
Using tennis and education within the  framework as the vehicle for personal development, their student athletes will continue to be good citizens of the world, long after they leave their care.
Top notch instruction with each  tennis pro on site offering something unique to the students. The Academy offers a level of personal attention with one on one instruction like no other. The focus is on teaching and harnessing core values of education, competitiveness, and enthusiasm.
If you or someone you know has that burning passion for the sport of tennis stop by the academy and see all they have to offer. Emilio and his staff have all taken the steps from good tennis players to world class professionals and they are now sharing their knowledge and their skills to make others the best tennis players they can be.