By Joseph Magnant, MD, FACS, RPVI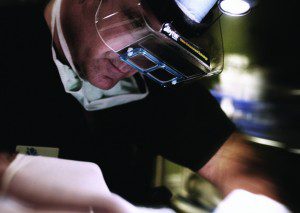 As each New Year dawns, many of us spend the weeks or months preceding the turning of the calendar contemplating potential New Year resolutions.  Most resolutions can be categorized into discrete compartments.  Spiritual/religious, professional development, strengthening and renewing family and other relationships, and improving our health are the top ones I generally consider.  From a professional and educational perspective I have resolved to renew and further my commitment to the education of the general public and physician community regarding the wide variety of presentations of correctable superficial venous insufficiency. We have extended the opportunity for patients to be screened for venous disease by offering an online interactive vein screening questionnaire, e-vein screening, accessible to the public from the home page of our website, weknowveins.com.
It is estimated that 35-40 million adult Americans suffer from significant superficial venous insufficiency, or venous reflux disease, the majority of whom do not present with ulceration or external bleeding as their initial complaint.  In addition to these more urgent presentations, many patients present with other symptoms such as painful varicose veins, skin discoloration, and a host of other symptoms related to and caused by leaky veins including swollen legs, restless legs syndrome, nocturnal leg cramps and frequent nighttime urination.  Until the year 2000, the only treatments for venous insufficiency (manifest as large varicose veins, skin ulcerations or bleeding varicose veins) were compression hose or vein stripping.  Due to the invasive and painful nature of vein stripping, surgical treatment for venous insufficiency was limited to patients with recurrent ulcerations around the ankles or varicose vein related bleeding episodes.
Endovenous closure, which was introduced in 2000, has significantly changed the landscape for patients with venous insufficiency.  Since introduced, endovenous closure (sealing of the leaky veins with a small catheter) has been used successfully to treat hundreds of thousands of patients, relieving their disabling symptoms prior to developing venous ulcers or bleeding. The availability of this minimally invasive and very effective procedure for patients with symptomatic venous insufficiency has resulted in a surge in the number of patients being referred to Vein Specialists for venous insufficiency evaluation. Sources of referrals include primary care physicians, specialists in orthopedics, cardiology, podiatry, dermatology, neurology, urology and others, as well as direct referrals from satisfied patients who have had the procedure.  Since the superficial venous system (rather than the deep system) is responsible for the majority of patients' problems with advanced signs and symptoms of venous insufficiency, it seems only appropriate to offer patients thorough venous evaluation and  definitive therapy earlier in the course of the disease process rather than making them suffer the pain and discomfort of untreated venous insufficiency. Complications such as bleeding, ulceration and cellulitis require frequent emergency room visits and hospitalizations.  The goal should be the avoidance of these serious complications.  I would like to highlight a number of interesting patients that made a resolution to make their leg vein problems a priority and who were treated in the past year.
K.S. is a 66 year old female who was referred for evaluation of a non-healing and painful left lateral ankle ulcer which had been present for 12 (yes… twelve) YEARS.  Previous evaluation had included compression hose, elevation, extensive wound care center treatments and previous vein evaluation.  She and her husband made a RESOLUTION to obtain a second opinion to see if anything else could be done for her as she had failed to make significant progress.  Ultrasound revealed severe superficial insufficiency of the great saphenous vein, a few connecting (perforating) veins as well as a cluster of varicose veins in the margin of the ulceration.  She underwent staged treatment with endovenous ablation (sealing) of the main superficial veins and the connecting veins followed by ultrasound directed foam injection sclerotherapy of the marginal veins.  Her ulcer is now well healed and her pain resolved and she has a beaming smile on her face as she can go about her days without pain and without the burden of caring for an open wound and without the additional infection risk an open skin wound poses.
C. D. is a 58 year old female who presented through a podiatrist (the 8th physician she had seen for her legs) for evaluation of venous insufficiency.  She had been told by a number of physicians that she had "fat and swollen legs" but that since she did not have any visible varicose veins bulging out of the skin, Venous Insufficiency was not a consideration.  Clinically, her legs were swollen, red, tender and extremely tight to the point that she could not perform activities of daily living over the previous nine months.  She RESOLVED to search further for a curable cause and her podiatrist, Dr. Doerr, referred her for venous evaluation.  Her ultrasound subsequently confirmed severe superficial venous insufficiency.  Other symptoms included severe leg cramps and nighttime urination.  Endovenous closure was performed on both legs, 2 weeks apart and she returned for her post-op follow-up, smiling from ear to ear, with ankle bones she could actually see (as the swelling had resolved) and remarked that she was wearing shoes (as opposed to flip flops) for the first time in nine months.
M.T.  is a 52 year male whose wife researched the internet to see what might be causing the severe swelling, skin discoloration and ulcerations of his lower legs.  He had noted varicose veins and leg swelling for many years prior and had seen a number of primary care physicians who were not familiar with presentations of venous insufficiency other than varicose veins.  His wife had RESOLVED to educate herself through the internet and find the right specialist for her husband.  Ultrasound evaluation confirmed severe bilateral great saphenous vein insufficiency and he underwent endovenous ablation with rapid improvement and subsequent closure of the ulcer within one month of his procedure.  Years of open ulcers, daily wound care, severe swelling of the legs, nighttime urination 3-4 times per night and daytime narcolepsy are now all things of the past.
S. G.  is a 41 year old mother of two who underwent endovenous ablation of her left anterior accessory and great saphenous veins as well as varicose vein removal through two tiny incisions.  Her procedure was performed under local anesthesia in less than one hour and she returned to work in 24 hours.  Her RESOLUTION to find the cause of her swollen achy legs and varicose veins took her to Vein Specialists for her initial evaluation three months prior.  She underwent ultrasound evaluation which confirmed severe leakiness in the above veins and she completed a three month trial of compression hose and elevation with improvement of her symptoms.  She desired a long term, definitive therapy for her venous insufficiency rather than the less practical, ineffective compression hose option.
So…in 2016, will you RESOLVE to address your leg complaints?  RESOLVE yourself to live without swollen achy legs, tight and red legs, nocturnal leg cramps and urination, or restless legs syndrome.
RESOLVE to have your large bulging veins evaluated earlier for the underlying cause and possible treatment options rather than waiting for the veins to clot off on an airplane or car ride.
RESOLVE to minimize your risk of deep vein thrombosis by seeking evaluation of your swollen legs for deep vein clots or leaking veins.
RESOLVE to empower and educate yourself through all available resources, health screenings, educational articles and materials or internet resources and be persistent in your search for the cause of and cure for your leg problems.
Our collective RESOLVE in medicine should be to improve the well being and functional quality of life of our patients by offering evidence based treatments directed at prevention of the end complications of disease processes.  Endovenous ablation is the treatment ticket to the improvement of millions of Americans being held back by the lifestyle limiting symptoms of venous insufficiency.
Obtain your FREE virtual vein consult now!
Scan the QR code or log on to  eVeinscreening.com
1510 Royal Palm Square Blvd., Suite 101, Fort Myers, Florida    |          3359 Woods Edge Circle, Suite 102, Bonita Springs, Florida