By First Light Home Care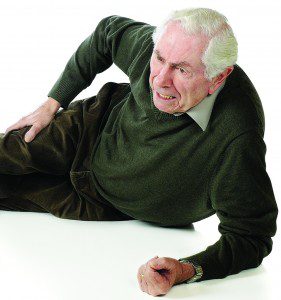 "I have fallen and cannot get up!"   
We all have heard this line over the years with a slight chuckle based on its origin back in the 80's and 90's.   Life Alert was the commercial that made us all aware of being safe at home.  Is this the best solution or does it give us a false sense of security?  Any tools that can enhance your quality of life and give peace of mind are always a plus.  If you fall and are knocked unconscious what process is in place?  Is someone calling you daily just to check in?
How big is the problem?
If you are over 65, chances are that you have fallen for one reason or another in your home. Statistics claim that one in three adults over the age of 65 fall each year. Among older adults, falls are the leading cause of injury deaths and the most common cause of hospital admissions for trauma. Of those who fall, 10-30% suffer injuries that make it difficult for them to live independently and increase their chances of early death.
The rate of fall-related deaths among elderly has significantly risen over the past decade. Older adults are five times more often to be hospitalized as a result of falling than they are from any other injuries.  Nearly two million people over 65 are treated annually in emergency departments across America, and roughly 16,000 of those people die from injuries related to their fall.
Costs of falls among older adults.
As the incidence of falls increase among older people, so does the total cost of fall injuries for people 65 and older. By 2020, the annual cost of fall injuries is expected to reach $54.9 billion.
In a study of patients 72  and older, the average health care cost of a fall injury totaled $19,440. And this cost rapidly increases with age.
Types of fall injuries.
There are several different types of injuries that result from falling. These injuries can oftentimes make it difficult to get around and limit independent living. They can also increase the risk of premature death. Approximately 85% of deaths among those over the age of 75 are a result of  falls. Nearly 30%  of people who fall suffer moderate to severe injuries such as bruises, hip fractures, or head traumas. In fact, most fractures among elderly are caused by falls, making fractures the most common and costly type of nonfatal fall injury. Unfortunately, one out of five hip fracture patients die within a year following their injury.
What increases your risk of falling?
Many people who fall develop a fear of falling. This fear fear may cause them to limit their activities, leading to reduced mobility and physical fitness, and increasing their actual risk of falling.
Physical factors that will likely increase the risk of an older adult falling include: poor eyesight, hearing, muscle tone, and balance. Other conditions such as pain from arthritis or joint problems, dementia, illness, and irregular blood pressure can also increase the chances you will fall.
Aside from physical factors, there are also environmental factors that can increase your risk of falling. Dim lights, cluttered floors, improper cane or walkers, lack of grab bars, slippery surfaces, wrong shoes and lack of hand rails  are often reasons why preventable falls occur.
What to do to prevent falls?
Ask a doctor or pharmacist to review medications (both prescription and over-the-counter) to reduce side effects, dizziness and interactions that often cause balance problems. Regular exercise is vital to keeping the body strong. Exercise programs that increase strength and improve balance are especially good for preventing falls. If you wear corrective eyewear, it is important to have your eyes and lenses checked by an eye doctor at least one per year.
Reducing hazards in the home that can lead to falls is especially important for those over 65. Check your lighting, hand rails, stairs, tubs and showers for anything that can increase our chance of falling.
How can FirstLight help?
During the initial assessment, a FirstLight representative will do a home safety and fall prevention evaluation and develop a Home Care Plan that includes individual needs and risks.
The FirstLight representative will also compile a list of all of the client's current medications. Daily medication reminders are provided by FirstLight's caregivers and medication dispensers are available.  The medication dispensers are a convenient way to organize and dispense medication and is programmable for up to six reminders per day. The dispensers allow for notification and reporting from multiple caregivers to ensure no confusion about what medication has been given and what still needs to be taken.
As part of ongoing care, the FirstLight caregivers assist clients in their home, especially where falls are more likely to occur: transferring from bed/sofa, restroom, stairs, and kitchen. Encouraging clients to wear eye glasses, assisting with walking devices, and preparing balanced meals are just a few important ways FirstLight caregivers ensure older adults are staying safe in their own homes. Our caregivers  also provide transportation to and from the doctor's office and pharmacy for periodic medication reviews and yearly vision/hearing tests.
By providing durable medical equipment options (commodes near the bed, raised toilet seats with handles, lower beds, grab bars, handrails), the FirstLight team can drastically decrease the client's risk of falls.
The FirstLight personal emergency response system offers 24 hour protection and peace of mind. Installed professionally, the waterproof personal help button (either worn as a pendant or a wristband) has a 2-way voice intercom and long-range capacity. Help is only a button press away when wearing the FirstLight personal emergency response system.
For more information about the services and goods provided by FirstLight, please call us today. Don't wait until it is too late and you or a loved one suffers an injury from a preventable fall.
First Light Home Care
Naples 239-451-8185
Fort Myers 239-940-0614
www.firstlighthomecare.com