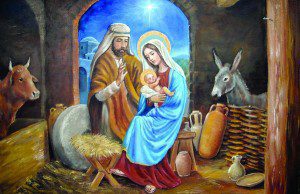 I suppose you'd have to be completely cut off from reality not to see it.  The world is a gloomy place, and seemingly getting gloomier.  Even as I sit down to write this, the world is weeping for the nightmare that happened in Paris.  Cruelty, hatred, murder and destruction undertaken by misguided people with a misguided view of God.
Isaiah, one of the most prominent of ancient Israel's prophet, spoke of such a time when he wrote,
They will look toward the earth and see only distress, darkness, and the gloom of affliction, and they will be driven into thick darkness.  Isaiah 8:22
Thick darkness indeed.    The temptation is to believe that the world is an abandoned, rudderless ship, careening off course and out of control toward some hopeless and unsurvivable disaster.  But into that darkness and abandonment and despair comes an unexpected, brilliant beam of light.
Nevertheless, the gloom of the distressed land will not be like that of the former times when He humbled the land of Zebulun and the land of Naphtali.But in the future He will bring honor to the Way of the Sea, to the land east of the Jordan, and to Galilee of the nations.
The people walking in darkness
have seen a great light;
a light has dawned
on those living in the land of darkness.  Isaiah 9:1-2
A great light.  Great in magnitude, majesty, miracle, and mercy.  For into this World has stepped the very One who has created it.  His coming was not marked by pomp and pageantry, except for the triumphant song of angels delivered to an unlikely audience of shepherds.  He did not come with the appearance of a triumphing King, though His coming does represent victory over darkness (while foreshadowing the ultimate consummation of that victory).
For a child will be born for us,
a son will be given to us,
and the government will be on His shoulders.
He will be named
Wonderful Counselor, Mighty God,
Eternal Father, Prince of Peace.  Isaiah 9:6
And so we come to Christmas.  If you are confused by the world, may you find in Him your Counselor.   If you feel powerless against the darkness (whether global or personal), may you know Him as Mighty God.  If you at times feel abandoned, even orphaned, may you come to trust your Eternal Father.
And may the hateful world, so often torn by violence, find in Him the Prince of Peace.
Merry Christmas.
McGregor Baptist Church
3750 Colonial Blvd.
Fort Myers, FL 33966
(239) 936-1754