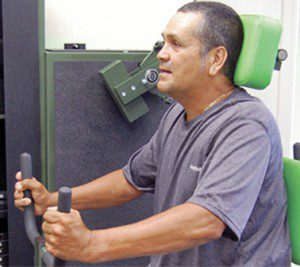 Finding a workout that is the perfect challenge and provides optimal results for your fitness level can be daunting and may lead to a waste of time and money. The Perfect 10 Strength Training in downtown Naples provides one-on-one personal training tailored to the specific needs of the clients. Whether you're looking for a strength training program to offer you an edge with the activities you already enjoy or whether you are nursing injuries new or old, The Perfect 10 Strength Training provides optimal results for all levels and goals.
Read below how some members feel about their work out whether they combine it with other activities or use it as their sole exercise source:
Sean Kenny has maintained his fitness and physique for decades. He came to The Perfect 10 Strength Training for an edge.
"This disrupts my normal routine and shakes things up," Kenny said, with his body literally shaking following his recent 20-minute, once per week training session.
Kenny isn't new to the concepts that make the high intensity, once-per week session enough to produce optimal strength.
"I learned about this modality of training long before I met (The Perfect 10 Strength Training owner) Marcy (Hess,)" Kenny said.
Despite being self-motivated, he attributes much of his success at The Perfect 10 to having a personal trainer.
"This is so hard. It's so hard to do without a coach, I definitely wouldn't have just done that last one," he said of his final rep on one of the specialized pieces of equipment that is unlike anything found in the typical gym.
Bobbi Mitchell joined The Perfect 10 for a new challenge and was hoping for noticeable results.  Being very busy running her restaurants the 20 minutes once a week was intriguing.  After only 2 months "I noticed a big difference around my middle and hips and my clothes were looser fitting.  I got on the scale and noticed that in 2 months I lost 12 pounds!  I have more energy and feel stronger.  I love that I can easily fit the 20 minutes into my busy work week".
The specialized equipment at The Perfect 10 Strength Training is ideal for rehabilitation after injury or illness as well as for the elite athlete. The equipment has concealed systems of pullies and gears that provide for varying resistance throughout the body's full range of motion, tailoring each repetition to the strength of the user. Also, with the equipment being adjusted in size and weight to the individual, with a trainer watching each move, the workout minimizes the risks of re-injury found in typical workouts — a particular relief for people in recovery or who have sustained long term injuries.
Darryl Crews was referred to The Perfect 10 Strength Training by friends. Due to a longtime injury in one hand, he favored the other and was substantially imbalanced throughout his body, particularly his arms and core. He finally found a workout that he enjoys doing, that balanced his body in just a few weeks. He has been working out at The Perfect 10 Strength Training for nearly nine months and doesn't plan on quitting. He's losing inches while gaining strength, balance and functionality that he enjoys in everyday life now.
"Anything else you've been doing that you thought you had to do, but don't enjoy doing, you can just stop it. You don't need it with this workout," said Crews.
Linda Johnson loves how The Perfect 10 Strength Training got rid of "arm wings" in 20 minutes, once per week.  After 5 months of working out at the Perfect 10, Linda shared her skepticism at first and her amazing results!  "I wondered, could I really get a good workout in 20 minutes?  I have always been active, enjoying yoga, using a personal trainer, pilates, etc but I was looking for a change.  When I first read about The Perfect 10 I didn't think I could get a full body workout in just 20 minutes once a week.  I was pleasantly surprised.  My upper body gained strength, my legs were strong again (after foot surgery) and the best part is my arms are toned (losing the "arm wings") but not overly chiseled.  My husband says my arms look great when I wear a sleeveless shirt.  I like the fact that I am in and out and really do get a full body workout."
Clearly high intensity training at The Perfect 10 Strength Training makes sense for everyone!  It is safe, effective and efficient so all will benefit regardless of age, gender or fitness level.  Start today and begin to enhance your strength, health and ultimately your life with this very specialized workout.
Join us Thursday,
November 14th | 6pm to 7pm
Women's Open House
Meet our PA, Katherine Ortiz PA-C, M.M.S. board certified anti-aging & functional medicine specialist, now offering:
Botox, injectable fillers, liquid face lift
technique and chemical peels.
Enter to Win FREE Sessions
for Strength Training, Reiki and
Nutrition Counseling.
Space is limited please RSVP to 239-213-1466.
239-213-1466
www.theperfect10strengthtraining.com
180 9th Street South, Suite 200
Naples FL 34102