By Dr. Gopinath S. Sunil –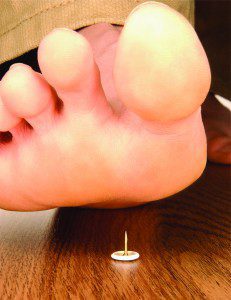 Tingling. Numbness. Burning. Pain. If your feet and legs have any of these symptoms, you may have Neuropathy. Neuropathy is nerve damage found in the peripheral nervous system; which means that it affects nerves outside of the brain
and spinal cord.
This disorder is one of the complications of diabetes. 50 percent of people who have diabetic neuropathy do not know they have it. For people who are asymptomatic, only doctors can detect neuropathy. The rest of the people that have it can experience multiple symptoms, and pain is their most frequent complaint.
How does neuropathy develop? It is a chain reaction starting with weight gain. Excessive weight gain is a leading cause of Type 2 Diabetes (American Diabetes Association). Many overweight people who struggle with Diabetes often develop circulation problems in their feet, along with complications from the pressure on their feet.
The pain from Diabetic Neuropathy occurs more at night. Unfortunately, this pain can lead to sleep disturbance. One of the problems with lack of sleep is that it can easily lead to overeating. In fact, people who are sleep deprived eat more than 500 additional calories per day. As we just established, weight
gain begins the cycle once again.
How do I treat Neuropathy? A highly recommended treatment for Neuropathy is the use of a parenteral pain cream. This cream is beneficial, because is bypasses the liver and digestive system. Meaning, it will not interfere with other prescription medications. Dr. Gopinath Sunil, a local endocrinologist, highly recommends this to his patients.
Are there steps to help prevent Neuropathy in the first place? Yes, step one is to work with your doctor to keep your blood sugar under strict control. One of the best things to do is develop a healthy diet. Obviously, preventing Diabetes from occurring in the first place is most ideal. Also, examine your feet and legs daily, applying lotion to your feet when dry, caring for you nails regularly, and utilize well-fitting footwear to avoid injuries are all essential.
Prevention and proper care will help minimize the effects of this vicious cycle. If you have any concerns regarding Neuropathy, feel free to contact Dr. Gopinath S. Sunil. He runs The Gland Center in Naples and can be reached at (321) 325-1111.
Dr. Sunil has been specializing in this field for the past 16 years and is an expert in his field.
Gopinath Sunil, M.D.
Graduated in medicine from
India (University of Kerala) 1987
Post graduate diplomate in
Reproductive Endocrinology –
University of Geneva, Switzerland, 1991
Research Associate in Reproductive Endocrinology, Stanford University, CA
Residency in internal medicine, Mayo Clinic and Maricopa County Hospital, Phoenix, AZ
Fellowship in Endocrinology, Diabetes and metabolism – University of Minnesota, Minneapolis, MN
Consultant, Endocrinology – Cleveland Clinic, Naples, FL 2001-2003
Chief of Endocrinology, Physicians Regional Medical Center 2003-2007
Medical Director, Arizona Endocrinology & Diabetes, Scottsdale, AZ
Appointments:  Member, Nutrition committee, American Association of Clinical Endocrinology
(2011 – current)
Research:  Obesity, Diabetes, thyroid disorders.
Dr. Cheryl Robinson
Graduated from the University of
Central Oklahoma with a Degree in
Dietetics and Nutrition & a minor in
Chemistry. President of the
Chemistry Club.
Graduated From the Advanced
Practice Program (AP4) from
Oklahoma State University.
Residency at Mercy Hospital in Oklahoma City, Oklahoma
Graduated from Oklahoma State University with a Master's in Public Health Care Administration.
Graduated with a Doctorate in Human and Environmental Science from Oklahoma State University.
Registered Dietitian and recognized by (CDR)
Certified Diabetes Educator and recognized by (AADE)
Active Member with the American Dietetic Association (ADA)
American Diabetes Association (ADA)
American Association of Diabetes Educators (AADE)
National Kidney Foundation (NKF)
Research: (PCOD) Polycystic Ovarian Disease in
Type II Diabetes.
Beta Cell transplant in the Type 1 Diabetic
Diabetes, Obesity, Renal Disease
The Glands Center

phone: (321) 325-1111 . fax: (239) 249-6799