By Dr. Noël Crosby, Au.D. –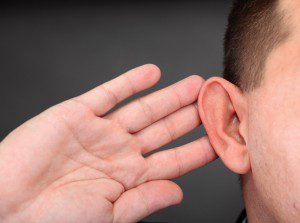 Untreated hearing loss can have a devastating effect on one's life and can severely damage family life, earning power and the human psyche. The good news is that many effective solutions exist today.  Hearing aids have advanced technologically and many other tools (i.e. looping systems and Wi-Fi capabilities) are now available to help the hard of hearing communicate.
But perhaps best of all is the fact that you don't have to be alone in your search for solutions.  There are many resources available to help you in your journey to better hearing. I've listed some of my favorite recommendations below:
1.    Better Hearing Institute
(www.betterhearing.org): Founded in 1973, the Better Hearing Institute (BHI) is a not-for-profit corporation that educates the public about the neglected problem of hearing loss and what can be done about it. Their mission is to erase the stigma associated with hearing loss, identify the negative effects of hearing loss and promote treatment. Check out their website for hearing health news and educational facts.  They offer consumers a free Hearing Health Guide and operate a call center where you can pose your questions to hearing healthcare experts.
2.    Hearing Like Me
(www.hearinglikeme.com):
HearingLikeMe.com is an online community for people whose lives are affected by hearing loss. They bring together people from all around the world to share stories that inspire hope in almost any hearing loss situation.
3.    Healthy Hearing
(www.healthyhearing.com):
Another leading online resource, Healthy Hearing not only provides a free Consumer Guide and comprehensive coverage of hearing health news, but provides an overview of all major hearing aid companies.
4.    Hearing Loss Association of
America (www.hearingloss.org):
The Hearing Loss Association of America (HLAA) is the nation's leading organization representing people with hearing loss. In addition to providing assistance and resources for those with hearing loss, HLAA is focused on raising public awareness about the need for prevention, treatment and regular hearing screenings. Its programs and services also include the publication of Hearing Loss Magazine, national support through nearly 200 local chapters and 14 state organizations and the Walk4Hearing event, a fund-raising walking program for those with hearing loss.  There is also a local HLAA group that meets in Sarasota.
5.    American Tinnitus Association
(www.ata.org):
In addition to being a resource for information about tinnitus (ringing in the ears) the American Tinnitus Association (ATA) is also a research and funding source. Since 1980, ATA has awarded more than $5 million allowing researchers to launch their work.  As a result of the ATA support, some of these researchers have gone on to receive large grants from the U.S. Nation Institutes of Health (NIH) and the U.S. Department of Defense.
PROFESSIONAL BIO
Dr. Noël Crosby, Au.D., owner and practicing audiologist at Advanced Hearing Solutions in Englewood, FL is an experienced  professional whose career has been devoted to helping people of all ages hear and understand more clearly.
With over 25 years of experience, Dr. Crosby's career path is marked by the pursuit of advanced education.  After completing her undergraduate requirements, she received her Bachelor and Master of Science degrees from Florida State University and her Doctorate in Audiology from the University of Florida.
Her credibility as an authority grew during her tenure as the Director of Audiology at the Silverstein Institute in Sarasota, FL from 1991-1998. Today, in addition to managing a successful audiology practice, Dr. Crosby just completed her second term as president of The Florida Academy of Audiology.
941-474-8393  |  www.drnoelcrosby.com