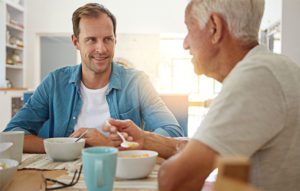 Ask most people what they wish for, and finding a cure for cancer is usually at the top of their list. There are innovative advancements in treatment options like immunotherapy, but until there is an actual cure, the best option is to live a healthy lifestyle, avoid chemicals and environmental toxins, and incorporate preventative supplements into your regime proactively.
If you could avoid common cancers, like prostate cancer, by taking supplements, exercising, getting enough sleep, and living a healthy lifestyle; would you? Medical studies show significant positive impacts of those healthy habits on like killing cancer cells, quenching inflammation and snuffing out infections. So what are you waiting for?
Xenoestrogens
Both men and women maintain healthy reproductive organs through hormonal balance. One of the main contributors to hormonal imbalance is xenoestrogens. Xenoestrogens are estrogen-imitating compounds. These disruptors are stored in the fat cells and wreak havoc on prostate health and the reproductive system. Xenoestrogens are chemical pollutants that enter the body through the skin, respiratory tract, and ingestion.
There are many xenoestrogens in our everyday environment, but some of the leading chemical toxins are:
• Plastics
• Food coloring
• Food preservatives
• Beer
• Grains
• Refined sugars
• Electric oils and gasoline
• Adhesives
• Paint
• Insecticides
• Skin lotion with parabens etc.
• Copier and printer chemicals
• Chemicals on carpeting and rugs
• Chlorine
As far as your diet, you should make every attempt possible to eat organic fruits and vegetables, avoid packaged foods, eat wild caught fish; hormone-free, cage-free chicken and eggs and grass-fed beef. Water should be filtered, and you should avoid chlorine bleached coffee filters and plastic with BPA.
Use chemical free soaps, mouthwash, lotions and toothpaste. Also, use chemical free detergents and cleaning products. In your work environment, limit exposure to chemicals by logistics or wearing protective gear such as a medical facemask.
Supplements
There have been ongoing studies on the addition of certain supplements and nutrients to prevent prostate cancer. These foods and supplements include:
• Green tea
• Turmeric
• Flaxseeds
• Boron
• Omega-3 Fatty Acids
• Coenzyme Q10
• Lycopene
• Selenium
• Zinc Milk Thistle
• And more
Functional medicine is integrative medicine that focuses on a complete look at a person's lifestyle, genetics, environmental, and social factors concerning their overall health's condition.
Vitamin C
Intravenous vitamin C can increase your circulating vitamin C levels by 70 to 100 times the amount that oral vitamin C can. In times of compromised health, this is a great option. Low doses of intravenous vitamin C can help to keep your immune system robust. That's very important!
Intravenous Glutathione
Glutathione is the master detoxifier and antioxidant in the body. Every single cell uses glutathione, but it is most active in the liver, where the majority of detoxifying takes place. Remember that the big players in your immune system are white blood cells. Detoxifying protects your body from the assaults of daily living. Glutathione supports every cell in your body and is exceedingly beneficial to your immune system. Unfortunately, oral glutathione just doesn't work. It gets broken down by the digestive process before it gets into your blood. So intravenous is the only way to get it.
Myers Cocktail
A Myers cocktail is a combination of vitamins and minerals that helps to support the cellular activity of your body. This combination just helps everything work better. In the best case scenario, only about 40 percent of supplements are absorbed by the body. The Myers cocktail gives you 100 percent absorption because it is delivered straight to your blood stream via intravenous infusion. It's beneficial to everyone, no matter who you are.
There are numerous options and benefits of intravenous nutrient therapy. Most conditions can benefit from nutrient IV therapy. Contact Root Causes to find out how Nutrient IV therapy can benefit you!
A key component of functional medicine is IV therapy. This type of treatment option, administers high dose vitamins, minerals, amino acids and other essential nutrients to fight disease, eliminate symptoms, and alleviate associated effects.
Dr. DeStefano, of Root Causes Holistic Health & Medicine in Ft Myers, FL, incorporates IV & Chelation therapy with hyperbaric chamber sessions to combat multiple chronic conditions and disease states, including prostate health.
Doreen DeStefano, NHD, BSN, RN
Dr. Doreen DeStefano holds a doctorate in natural health, an MPA in public business, MS (ABT) in criminal psychology, and a BS in exercise physiology and nursing. She previously held an EMT certification. Dr. DeStefano has been practicing in natural health for over ten years. Her area of interest is healthy aging and prevention and resolution of chronic symptoms associated with aging. She believes that growing old should not mean breaking down.
To learn more, please contact Root Causes Holistic Health & Medicine today at (239) 425-2900, or visit their website at rtcausesmd.com.