By John P. Landi, MD, FACS, RPVI, RPhS, Diplomate of The American Board of Venous and Lymphatic Medicine –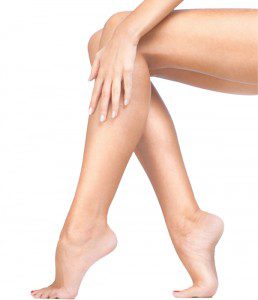 The treatment of varicose veins and spider veins has undergone dramatic changes over the last ten years and especially over the last three years.  Up until around the year 2000, the only available treatment for varicose veins was a surgical procedure called ligation and stripping, which involved removing veins by multiple incisions and using multiple stitches.  This operation had about a month of downtime and left patients with many unsightly scars.  Spider veins were treated only by saline injections which were painful and had many potential side effects such as burning, brownish discoloration, ulcer formation and a high recurrence rate.  Now, with the advent of lasers in vein treatment, all of this has changed.
How Do Lasers Treat Veins?
Laser is an acronym for Light Activation by Stimulated Emission of Radiation.  Essentially, a beam of light is created by a laser machine at a specific wavelength.  This beam is due to tiny photons that have been stimulated by the machine to produce infrared light that can emit an intense amount of energy.  In the case of lasers for veins, this energy can be used to heat and evaporate the varicose or spider veins.
Many types of lasers have been developed, but the ones that are useful in vein treatments are usually in the wavelengths from 800 – 1500 microns.  Microns are the depth from the skin at which the laser works.  The higher the number, the greater the depth.  Each laser is specific for a certain depth and treats structures at that depth.  Veins occur at depths of around 700 – 1200 microns and the spider veins at much more superficial levels.
The Best Venous Laser for Varicose Veins
The commonly used lasers to treat varicose veins are 810, 940, 980, 1052, 1320 and now 1470.  For years, the lasers from 810 to 980 were considered the standard for venous treatment.  They worked by heating the blood in the vein and vein wall to dissolve the vein.  Although they worked very efficiently, the side effect of these wavelengths were bruising of the skin and some pain along the lasered vein.  About three years ago, the 1052 and 1320 wavelengths were developed.  These worked at a deeper level by targeting the water around the vein to heat the water to then heat and evaporate the vein.  This resulted in decreased bruising and post operative discomfort.  Finally, the 1470 has been released.  This works at even a deeper level to again heat the water around the vein to then dissolve the vein.  This is now considered one of the best venous lasers for varicose veins because there is minimum post procedure discomfort and, therefore, patients can return to full normal activity within twenty-four hours.
No Pain, Bruising or Downtime
I have two 940 lasers, a VNUS Radio frequency catheter, and now the 1470 laser.  The 1470 has become my number one choice of   lasers because it gives excellent results with minimal post procedure pain, bruising or downtime. Patients can now be back to all activities immediately after the procedure without the need for a two week recovery or the need to wear support hose for more than several days.  The most common post procedure complaint was thigh discomfort and this has now been eliminated.  The 1470 is now considered the state of the art for venous laser therapy.
Treatment of Small Spider Veins
As far as lasers for spider veins, the thing to remember is that lasers on the skin (topical lasers) work only on the smallest of spider veins.  Large spider veins should be treated with sclerotherapy.  If a spider vein is big enough to get a needle into it, then it should be injected.  If the spider vein is too small for a needle, then a topical laser such as Vein Wave, Vein Gogh, Ellman or various other skin lasers can be tried.  It should be noted that, in general, spider vein laser treatment can be painful and usually requires multiple treatments.  It should only be recommended if sclerotherapy could not be done or was unsuccessful.
The Only Vein Center in Collier County with this Advanced Laser Technology
At Vanish Vein and Laser Center, I have performed over 12,000 laser ablation procedures. Vanish Vein and Laser Center is currently the only vein center in Collier County to have this laser wavelength.  To learn more or to schedule an appointment, please call 239-403-0800 or visit us online at www.vanishvein.com.
Dr. Landi is medical director of Vanish Vein and Laser Center, a state of the art, dedicated vein treatment center. He is one of less than 2,000 physicians worldwide to achieve the designation of Diplomate of the American Board of Venous and Lymphatic Medicine. He is a fellow of the American College of Surgeons, a fellowship trained vascular surgeon, Board Certified in General Surgery and has achieved both the RPVI and RPhS certifications in vascular ultrasound.