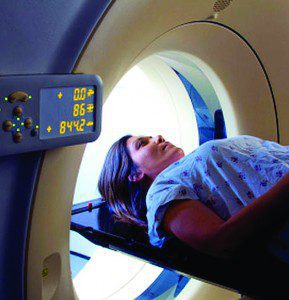 Each November, healthcare providers dedicate time to educate patients and the community at large about Diabetes, COPD and lung cancer. Naples Radiologists, LLC, is proud to be an essential component of the local Naples healthcare scene. We focus on every patient as we diagnose disease, helping you and your primary physician to identify the source of what ails you and get you on the road to health. At Naples Diagnostic Imaging Center, in addition to the full gamut of radiology, we perform screening chest CT scans to evaluate high-risk individuals and even individuals simply seeking peace of mind.
Physicians use medical diagnostic imaging to examine the human body in ways that they cannot from the outside. Diagnostic imaging uses electronic technology and medical equipment to create pictures that reveal what is going on inside the human body. Although a few types of diagnostic imaging tests can be uncomfortable, the majority of them are noninvasive and painless. The type of medical equipment a physician will choose to conduct the test depends on a patient's symptoms and the area of the body that needs to be examined. A few of the most popular types of tests include x-rays, CT scans, MRI, scans, digital mammography, and ultrasounds. They are conducted by radiologists or radiologic technologists who are professionally trained to operate specialized equipment to properly and safely examine patients.
One of the most important things about diagnostic imaging is its use in the early detection of diseases. Through molecular imaging, physicians are able to look at the human body on a cellular level and detect disease before symptoms become apparent. These comprehensive tests show the structure and functions of organs, such as the heart, thyroid, lungs, and liver, allowing for abnormalities or problems with these organs to be examined further so that a diagnosis can be reached. When it comes to a disease like cancer, early detection generally equals higher survival rates. MRIs are a type of molecular imaging test that enables physicians to find hidden cancer cells within the body so that they can correctly diagnose early stages of cancer. Other imaging tests like CT scans are particularly able to detect cancers of the lung at the most treatable stages.
Being able to detect stages of any disease early, helps physicians recommend the most effective treatment plans for their patients and increases their chances of surviving the disease.
With improved health care policy and increasing number of available medical equipment, the number of radiological medical procedures are increasing considerably. Effective and of good quality imaging is important for further medical decision making and can reduce unnecessary procedures.
Radiology is a complex specialty. Since the beginning of the 19th century, with the discovery of the x-ray in 1895 by Dr. Wilhelm Conrad Roentgen, technology has expanded remarkably, resulting in astounding health care advances such as CT, MRI, Ultrasound, and angiography, all of which enable radiologists to care for you to the best of our abilities. Couple those advancements with high-level education and years of expertise and you can see why Naples Radiologists are your preferred imaging team.
The interventional radiologists at NDIC are specialists who treat many ailments using tiny needles and catheters, without making a surgical incision to do so. Such minimally invasive tools of therapy and diagnosis have rapidly become standards of care in many cases. With more than forty years of combined experience diagnosing and treating cancer, among other ailments, our interventionalists are among the most trusted and experienced in the area.
Starting with CT- or ultrasound-guided biopsy, cancers are rapidly diagnosed with minimal risk to the patient. Then the interventionalists use techniques such as cryoablation, or freezing using a thin metal probe, or chemoembolization, cutting off blood supply to the cancers, to treat cancers without surgery. These forms of diagnosis and treatment are truly revolutionary and are available right here in Naples.
Regardless of where you currently reside, you may need the services of dedicated physicians. The excellent physicians in Naples and the Southwest Florida region are here to help should the need arise.
Stop by Naples Diagnostic Imaging Centers, Like us on Facebook, or visit naplesimaging.com to see how we are improving health and saving lives every day. We are here for your health.
By 2020, heart disease has been estimated to be the leading cause of death throughout the world. If you are concerned that you may be at risk, take advantage of Calcium Scoring to help determine the health of your heart. You can contact Naples Diagnostic Imaging Center at (239) 593-4222 or visit them at 40 S Heathwood Dr on Marco Island.
Dr. Paul Dorio
Certified: American Board of Radiology – 2001
Added Qualification in Vascular/Interventional Radiology – 2004
Residency:
Diagnostic Radiology, University of Wisconsin
Hospital & Clinics, Madison, WI – 1997 to 2001
Fellowship:
Vascular & Intervential Radiology, University of
Maryland Medical System, Baltimore, MD – 2001
to 2002
Area of Special Interest:
Interventional Radiology