By Dr. John P. Landi, MD, FACS, RPVI, RPhS, Diplomate of The American Board
of Venous and Lymphatic Medicine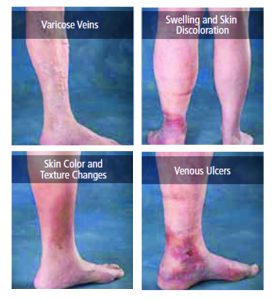 OVERALL, VEIN THERAPY IN GENERAL AND VARICOSE AND SPIDER VEIN TREATMENTS SPECIFICALLY, HAVE UNDERGONE DRAMATIC CHANGES IN THE LAST DECADE.  THIS RAPIDLY EVOLVING FIELD OF PHLEBOLOGY (THE TREATMENT OF VEINS) NOW HAS ITS OWN BOARD CERTIFICATION BY THE AMERICAN BOARD OF VENOUS AND LYMPHATIC MEDICINE. IN ADDITION TO THIS THERE HAVE BEEN RAPID ADVANCES IN ULTRASONIC EVALUATION OF VENOUS PATHOLOGY LEADING TO VERY PRECISE DIAGNOSIS OF THE REASONS FOR VARICOSE VEINS, SPIDER VEINS. LEG SWELLING AND ALL FORMS OF VENOUS INSUFFICIENCY.
UP UNTIL ABOUT 10 YEARS AGO, THE STANDARD TREATMENT FOR VARICOSE VEINS WAS A SURGICAL PROCEDURE CALLED STRIPPING AND THE STANDARD SPIDER VEIN TREATMENT WAS SCLEROTHERAPY WITH A SALINE (SALT) SOLUTION.  BOTH OF THESE PROCEDURES WERE UNCOMFORTABLE, LED TO MANY RECURRENCES AND WERE, FOR THE MOST PART, COSMETICALLY UNACCEPTABLE. ABOUT A DECADE AGO THE STANDARD OF TREATMENT FOR BOTH VARICOSE AND SPIDER VEINS CHANGED DRASTICALLY DUE TO  TWO
INNOVATIONS: THE LASER AND FOAM SCLEROSING SOLUTIONS.
LASERS FOR THE TREATMENT OF VARICOSE VEINS HAVE CONTINUED TO EVOLVE.  THE CURRENT OPTIMUM LASER TO CLOSE THE LEAKING VALVES LEADING TO VARICOSE VEINS APPEARS TO BE THE 1470 WAVELENTH. THIS LASER ALLOWS THE VEINS TO BE TREATED IN THE OFFICE UNDER LOCAL ANESTHESIA WITH MINIMUM BRUISING, DISCOMFORT AND DOWNTIME.
FOAM SCLEROTHERAPY SOLUTIONS, PRIMARILY POLIDOCANOL AND SODIUM TETRADECYL SULPHATE, CAN TREAT SPIDER AND BLUE (RETICULAR) VEINS WITH EXCELLENT COSMETIC RESULTS AND, AGAIN,IN THE OFFICE SETTING WITH NO DOWNTIME AND NO NEED FOR PROLONGED STOCKINGS OR COMPRESSION POST TREATMENT. WE ARE ALSO ABLE TO TREAT VEINS ALMOST ANYWHERE IN THE BODY INCLUDING THE FACE, AROUND THE EYES, HANDS, ARMS, BACK AND ESSENTIALLY ON ANY SKIN SURFACE.
AS THE FIELD OF PHLEBOLOGY CONTINUES TO EXPAND, THERE ARE NEW PRODUCTS CURRENTLY NEWLY RELEASED AND ON THE HORIZON.  WITHIN THE LAST 18 MONTHS, THE CLARIVEIN PROCEDURE HAS BEEN FDA APPROVED TO TREAT VARICOSE VEINS.  THIS  PROCEDURE IS CALLED MECHANOCHEMICAL ABLATION OR MOCA FOR SHORT.  CLARIVEIN HAS SHORTENED THE LASER VEIN PROCEDURE  TO ABOUT 15 MINUTES, IS DONE IN THE OFFICE UNDER STRAIGHT LOCAL ANESTHESIA AND HAS LITTLE TO NO POST PROCEDURE BRUISING. THE PROCEDURE INVOLVES INSERTING A SMALL WIRE INTO THE SAPHENOUS VEIN UNDER LOCAL ANESTHESIA UNDER ULTRASONIC GUIDANCE.  THE WIRE IS THEN  ACTIVATED TO SPIN TO CAUSE THE VEIN WALL TO CONSTRICT. AT THE SAME TIME THAT THE WIRE IS SPINNING , A SOLUTION IS SIMULTANEOUSLY INJECTED INTO THE VEIN TO SEAL IT. AS WITH ANY PROCEDURE, IT CANNOT BE DONE ON EVERYONE BUT THOSE WHO ARE CANDIDATES FOR THIS, WILL BE ABLE TO RECEIVE THE CURRENT MOST ADVANCED VEIN PROCEDURE WITH THE LEAST SIDE EFFECTS.
Another new closure procedure for varicose veins is Varithena.  This is a foam solution FDA approved and available for use in the US.  This procedure involves the injection of a foamed solution into both the saphenous and varicose veins without the need for the use of a laser. Recently FDA approved but not yet available for use in the US is VenaSeal which is a "glue" made of cyanoacrylate which is injected directly into the veins causing them to stick together and ultimately dissolve. Since these are both new procedures they are not covered by all insurance companies.
THIS IS AN EXCITING TIME TO BE INVOLVED IN VEIN CARE.  THERE HAVE BEEN TREMENDOUS ADVANCES IN THE LAST DECADE BUT THE NEXT 10 YEARS WILL BE EVEN MORE FASCINATING.
Dr. John P. Landi is medical director of Vanish Vein and Laser Center, a state of the art, dedicated vein treatment center. He is one of less than 2,000 physicians worldwide to achieve the designation of Diplomate of the American Board of Venous and Lymphatic Medicine. He is a fellow of the American College of Surgeons, a fellowship trained vascular surgeon, Board Certified in General Surgery and has achieved both the RPVI and RPhS certifications in vascular ultrasound.
239-403-0800
www.VanishVein.com