Michael J. Petrocelli, D.P.M., F.A.C.F.A.S., C.W.S.P.
Board Certified Ankle and Foot Surgeon and Board Certified Wound Care Specialist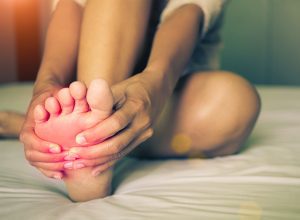 There are many reasons that our feet can become inflamed and painful, but if you've noticed pain in the ball of your foot where
specifically in the outer toe area you may have a neuroma. A neuroma is caused by injury to the nerves and tissue fibers of the ball of the foot and toes.
Neuromas are pinched nerves or nerve tumors that grow increasingly painful. They can even cause tingling and numbness in the area. The causes are trauma to the foot, injury, and genetics, but the most common cause of neuromas is wearing shoes that are too tight or too high. So for all of the women out there wearing extremely high heels or pointy shoes, you may be on the cusp of a painful dilemma.
How is a Neuroma Treated?
Typically a conservative approach is the first step. Your podiatrist will recommend the RICE method, which consists of resting, icing, compression, and elevation. Your physician may also prescribe NSAID or other forms of pain relievers, along with orthotics we're bracing methods.
It's crucial that you do not wear high heels of 2 inches if you are experiencing neuromas it's best to wear a wide foot based shoe that has a small wedge or flat cushioned sole. If resting and applying ice do not relieve your pain there are surgical methods that will alleviate the Neuroma and will allow you to live a more pain-free lifestyle.
The surgery is quick and simple as the doctor minimally invasively repairs the nerves through a tiny port in the ball of your foot. The recovery time is just a few weeks, usually 2-6 depending on your specific needs and compliance level.
Collier Podiatry is the area's expert on foot pain and disorders. Their kind and well-trained staff are ready to answer your questions and concerns and get you back on your feet again.
Collier Podiatry Services:
• Comprehensive Care of Foot and Ankle Disorders
• Comprehensive Treatment of Athletic Injuries
• Biomechanical Analysis and Custom Dynamic
Orthotic Fabrication
• Diabetic Shoes and Insoles
• Children's Foot and Ankle Problems
• Deep Tissue Laser Therapy
• Bunion Surgery
Medical and Surgical Treatment:
• Achilles Pain
• Arch Disorders
• Arthritis
• Bunions
• Corns and Callouses
• Diabetic Foot and Limb Care
• Hammertoes
• Heel Pain
• Heel Spurs
• Infections and Ulcerations
• Ingrown and Fungal Toenails
• Neuromas
• Neuropathy
• Onychomycosis or Toe Nail Fungus
• Plantar Fasciitis/Heel Pain
• Soft Tissue Masses and Tumors
• Sports Injuries
• Sprains and Fractures
• Tendon, Joint Pain, and Injuries
• Trauma and Athletic Injuries
• Warts
• Wound Care
Collier Podiatry
Dr. Michael Petrocelli has been practicing podiatric medicine for well over 20 years. He is an expert in his field and a leader to his peers. If you are experiencing any foot pain or foot conditions, please contact Collier Podiatry.
Collier Podiatry is available to answer your questions and make your appointment. Please visit their website at www.collierpodiatry.com, or call them at (239) 775-0019.
…………………………………………..
Dr. Michael J. Petrocelli was born and raised in North Providence, Rhode Island. He attended the University of Miami in Coral Gables, Florida where he earned his B.S. degree in Biological Sciences. Dr. Petrocelli then went on to receive his Doctor of Podiatric Medicine degree (Cum Laude) at the Scholl College of Podiatric Medicine in Chicago, Illinois. He completed a two-year residency in foot and ankle surgery—with an emphasis on diabetic wound care and limb salvage—at Kern Hospital in Detroit, Michigan.
Dr. Petrocelli has been in practice since 1994. He began with a large group practice in Tampa, FL, before relocating to Naples, FL, in 2002 to start his own practice to be closer to his family. He has done numerous lectures around the United States on wound care.
At Collier Podiatry, Dr. Petrocelli treats all forms of lower extremity treatment, including major and minor foot surgeries, are within Dr. Petrocelli's scope. In addition to his practice, Dr. Petrocelli is also the staff podiatrist at the Naples Community Hospital Wound Healing Center.
Collier Podiatry, P.A.
Michael J. Petrocelli
D.P.M., F.A.C.F.A.S., C.W.S.P.
239-775-0019
www.collierpodiatry.com
NCH Countryside Commons
1715 Heritage Trail, Suite 204
Naples, FL 34112
Phone: (239) 775-0019
Fax: (239) 775-0219
Email: CollierAppointments@gmail.com