Courtesy of The Eye Associates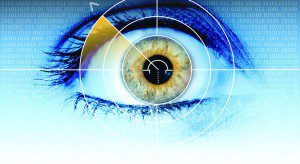 What are cataracts and what cause them?
Most cataracts are a natural part of the aging process and are present in half of adults over age 65. They occur when the natural crystalline lens in the eye becomes cloudy.
What are some common symptoms of cataracts?
• Blurred Distance Vision: Vision in general starts to blur, but it is especially noticeable when driving or watching TV.
• Sensitivity to Glare: Many people find it difficult to drive towards the sun. They also find it harder to see golf balls against a bright sky, even though vision may seem acceptable under other circumstances.
• Night Blindness: Because a cataract allows less light through the lens, it may become more bothersome in low light conditions, especially when trying to drive at night.
• Loss of Depth Perception: If you find yourself bumping the curb when parking, or if others say that you get too close to cars while driving, you may have a cataract in just one eye, which can cause difficulty in judging distances.
• Difficulty Reading: Reading is often blurry, making it difficult to read medicine bottles and phones.
• Loss of Color Perception: This symptom usually goes unnoticed until after the cataract has been removed. Many people are even shocked to see the colors they have chosen for their home.
Restoring Vision Through the Miracle of Cataract Surgery
The development of cataracts is often a slow process. In its early stages, eyeglasses are effective. However, as the condition worsens, the only effective means of restoring vision is through the miracle of cataract surgery.
Using the newest, most advanced technology, The Eye Associates' skilled surgeons will safely and gently remove the cataract. The surgery is performed outpatient and under local anesthesia. The actual surgery takes less than 15 minutes, although you will be here longer for pre-op and post-op care. Patients are usually able to resume most normal activities within hours, and frequently have better vision than they had before they developed cataracts.
What is Bladeless Laser Cataract Surgery and how is it different from traditional surgery?
Bladeless Laser Cataract Surgery uses a cool computer-guided laser for many critical steps of cataract surgery, whereby traditional cataract surgery is done manually with a blade.
What is an Alcon LenSx® laser and how does it work?
The Alcon LenSx® is The Eye Associates' femtosecond laser for cataract surgery, which emits cool pulses to automates the most challenging steps of cataract surgery, such as performing corneal incisions, opening the capsule and softening and breaking up the cataract. Also, the laser has high definition imaging providing  real-time, three-dimensional images that enable our skilled surgeons, Dr. Harris Silverman, Dr. Robert Friedman, Dr. Cathleen McCabe and Dr. Brian Foster, to offer patients the most accurate and predictable outcomes.  The LenSx® laser can even treat astigmatism.
Why did The Eye Associates decide to begin utilizing the LenSx® laser for cataract surgery?
The Eye Associates has always been a leading innovator in cataract surgery and we pride ourselves on having the most surgically advanced technology. More doctors choose us for themselves and their patients because this technology, combined with our experienced surgical team, translates to greater precision and outstanding outcomes.
Will this procedure be covered by insurance?
Individuals must check with their insurance for specific coverage, but if reduced vision criteria is met, Medicare pays 80% of a standard cataract surgery, after a yearly deductible is met. The LenSx® laser part of the surgery is a premium enhanced procedure not covered by Medicare, and requires some out-of-pocket fee from the patient. We make sure that patients receive specific information on all the cost of their procedure during the counseling process and before the cataract surgery.
Can cataracts grow back?
No, cataracts cannot grow back, however, sometimes after successful cataract surgery, the natural capsule that is left behind becomes cloudy and causes blurry vision again. This occurs in approximately 30 percent of patients, and can be soon after surgery or many years later. Not to worry, though. This cloudy capsule can be corrected quickly, using a simple laser procedure, called a YAG Laser Capsulotomy.  So if you had cataract surgery and your vision is not as good as it was right after the surgery, you may need a YAG. People see sharply again right after the procedure, usually returning to most normal activities that same day.
Why should patients choose
The Eye Associates?
For more than 30 years, The Eye Associates has set the standard in cataract surgery. That tradition of excellence continues with the FDA approved LenSx Cataract Laser. This Bladeless Laser has increased the precision and accuracy of the most critical steps in cataract surgery, and is more gentle than manual surgery. Combining that with our seasoned surgical team, Dr. Harris Silverman, Dr. Robert Friedman, Dr. Cathleen McCabe and Dr. Brian Foster, our patients can relax knowing that they have the most technologically advanced option for cataract surgery.
Also, The Eye Associates' Surgery and Laser Center and its highly trained staff are uniquely and exclusively dedicated to eye procedures. We are state licensed, Medicare approved and even have an advanced accreditation from the Accreditation Association for Ambulatory Health Care (AAAHC) , given only to those with superior patient care ratings.
Protect Your Driving Privileges
Driving is a vital part of maintaining an independent lifestyle, so it is important that you do all you can to maintain good vision. A study found that cataract surgery patients had 50 percent fewer car accidents compared to those who did not have the surgery, concluding that cataract surgery benefits older drivers by enhancing vision and helping them to become safer drivers.
In fact, after cataract surgery, many patients actually experience better vision than they had before they developed cataracts, giving patients a lifetime of better vision and safer driving.
The First Step
If you are experiencing any of the symptoms of cataracts, the first step is to have a comprehensive eye examination. Your doctor will be able to determine if a cataract is the cause of your decreased vision. If it is, and if it is inhibiting your quality of life and the activities that bring you joy, then you and your surgeon will determine which option is best for your eyes and lifestyle.
To learn more about cataract surgery, make plans to attend one of our free cataract seminars at The Eye Associates, or to make an appointment for a cataract evaluation today, please call 1-866-865-2020.
Toll Free: 1-866-865-2020
www.Sight4Life.com
WEST BRADENTON
6002 Pointe West Blvd
EAST BRADENTON
7230 55th Avenue East
SARASOTA
2111 Bee Ridge Rd
ELLENTON
7915 US Hwy 301 North
SUN CITY CENTER
3894 Sun City Center Blvd.