By Amy Hilliard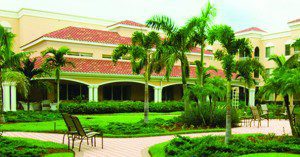 Each October, Eat Better, Eat Together Month is observed across the country, highlighting the many benefits of eating well and enjoying a shared dining experience. At The Carlisle Naples, under the leadership of Executive Chef Marlon Perez, residents can savor the flavors of fresh, healthy food choices year-round as well as share in the spirit of camaraderie found at the active retirement community on a daily basis.
"Our menu changes every week and selections may include a fresh salmon filet, lightly seasoned and grilled to order and finished with a drizzle of pesto glaze or herb-crusted spring lamb chops roasted to perfection with onion mint marmalade," said Chef Perez, who has been part of The Carlisle team for 10 years.
In addition to the five nightly specials, The Carlisle offers selections ranging from comfort foods (pot roast and meatloaf) to heart healthy options (organic spinach salad and the community's signature cornucopia salad which includes mixed greens, avocado, and grilled chicken).
The city of Naples is made up of a melting pot of cultures, with many residents retiring to the area from other states or regions. This diversity is also found within Chef Perez' culinary team which represents seven different countries. Often, the community's dining options reflect regional specialties or gourmet fare from other nations.
"Though our residents love comfort foods, they also enjoy sampling new dishes," he said. "Our themed parties which offer cuisine from Hawaii, the Caribbean and other parts of the world are a big hit with residents."
Chef Perez, whose background includes serving as the Banquet Chef at the prestigious Mar-a-Lago in Palm Beach, works closely with his suppliers to ensure the use of local, seasonal produce and meats whenever possible. In fact, it's not unusual to hear him on the phone with a vendor asking, "What's fresh?", before planning the senior living community's menu.
Flexibility is key and at The Carlisle Naples, an SRG senior living community, residents are afforded the option of dining when they choose as part of the community's Dine Your Way program™. The community's restaurant, The Carlisle Room, is renowned for its extensive menu. It is open 12 hours daily, seven days a week and residents enjoy a complimentary full breakfast plus choice of lunch or dinner daily, included in their monthly fee.
Realizing that sense of smell or taste becomes more important as one ages, Chef Perez makes it his goal to appeal to residents' senses and emphasize flavor, texture, aroma and color in every entrée. Fresh herbs such as basil and oregano and salt-free herb seasonings are used by chefs to intensify food flavors.
The dining experience at The Carlisle also exemplifies the latter part of this month's Eat Better, Eat Together observance. The community's welcoming, inviting atmosphere encourages socialization.
Research shows that dining alone for prolonged periods can affects one's appetite. It can also be mentally and physically unhealthy. Not surprisingly, enjoying a meal with at least one other person increases the amount of food eaten by 35 percent!
"Our restaurant is designed for both intimate and large gatherings," explained Chef Perez. "Our Private Dining Room can also be reserved by residents celebrating a birthday or anniversary."
Families are encouraged to dine at The Carlisle. The community's themed dinner parties and socials, which are held throughout the month, have been a great alternative for residents who regularly hosted family gatherings in their former homes.
The community's monthly, "Let's Dish" program offers yet another way for residents to engage with each other and with Chef Perez. It is during these sessions that Carlisle residents can learn about recipes that are being considered as upcoming menu choices and even share their own personal recipes.
"We are always open to residents' suggestions," he said. "Many residents have a special recipe—often passed down through generations—that their families looked forward to each time it was served. They want to share that joy with friends and neighbors here at The Carlisle. It's my pleasure to work these recipes into our menu."
The Carlisle Naples raises the bar on five-star dining at a senior living community and is committed to making "Eat Better, Eat Together" not just a monthly theme but a daily occurrence.
Located at 6945 Carlisle Court in Naples, The Carlisle offers spacious one-and two-bedroom residences include interior and exterior maintenance, weekly housekeeping and flat linen services, basic cable TV, all utilities except telephone, and a complimentary full breakfast plus choice of lunch or dinner in the community's gourmet-style restaurant.  For more information about the community, please call 239-221-0017 or visit www.TheCarlisleNaples.com.
For more information about the community, please call 239-221-0017 or visit www.TheCarlisleNaples.com.
The Carlisle, a luxury, resort-style senior living community in North Naples, offers both Independent and Assisted Living lifestyles. Available on a monthly fee basis, the ECC-licensed and CARF-accredited community boasts a full range of services and amenities including 12-hour restaurant dining, housekeeping, transportation and activities. Located on Airport-Pulling Road, between Pine Ridge and Immokalee Roads, the award-winning community's lush tropical environment is highlighted with meandering walking paths around three lakes and tranquility gardens. For more information or to schedule a tour, please call Director of Marketing Amy Hilliard at 239-221-0017.