Dr. Lacy Gilbert is an Invisalign Preferred Provider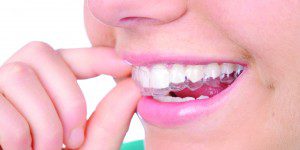 One of the first things that someone notices about you when they meet you is your smile. Does your smile brighten a room? Or do you shyly cover it up? When you are apprehensive about showing your teeth, it can cause you to lose confidence in social settings, at work, or just in general. Having an imperfect smile can be corrected in multiple ways. For years, the only method of improving your smile was with the use of traditional braces. These metallic appliances have haunted the childhoods of many people. Do the terms "brace-face" or "metal-mouth" ring a bell? Thankfully, advances in technology have given us alternatives. Clear aligners, or Invisalign, have replaced the use of metal for many patients. It is a great opportunity for people of all ages who are anxious about being seen with braces at an older age. It also helps school-age children who might feel insecure with the standard metallic route.
In the late 1990's, Invisalign was introduced to the world of Dentistry. A couple of students from Stanford University, Zia Chishti and Kelsey Wirth, invented this alternative technique in 1997. After wearing braces, like most people, Chishti had a plastic retainer he would often forget to wear. Without wearing his retainer his teeth would start shifting back to their original position. He noticed that when he started wearing the retainer again that his teeth would, once again, begin to realign. The two students ran with the notion that simply wearing plastic aligners to achieve a more perfect smile was an incredible leap in the industry. Invisalign has been welcomed with open arms ever since. Jump to 2014 and Invisalign has sold more than a million sets through over 70,000 worldwide providers. It is now a required dentistry program in schools across the world.
The list of advantages from utilizing Invisalign over traditional wire braces is large. The computer-generated trays are worn 24 hours a day with change-outs every two weeks, though there are certain trays that can be used for months. Being able to see your teeth straighten right before your eyes as the process is taking place gives you immediate confidence. They are relatively unnoticeable and they do not affect your speech like traditional braces. Additionally, with Invisalign there are no worries of metal allergies or gum irritation because the aligners are smooth to the touch. Due to the permanence of traditional braces, inadequate brushing, flossing, and plaque buildup are always a concern. With Invisalign, you simply remove them when brushing and replace them when done. One last significant advantage is that you are able to eat your favorite foods like popcorn. When wearing Invisalign, you can eat all the foods you love; but be careful, cavities can still occur.
Pelican Landing Dental of Bonita Springs reminds us that using Invisalign comes with greater responsibility than traditional braces. However, that responsibility is a small price to pay for a "picture perfect" smile. Invisalign must be worn at least 22 hours a day and you cannot skip days, because shortcuts will just prolong the process. Unlike wire braces, the extent of Invisalign's benefits are solely up to the person wearing them. It is very important to learn the proper care and cleaning of the appliance by following the instructions given by your dentist.
Fortunately, Dr. Lacy Gilbert is an Invisalign Preferred Provider for Invisalign, placing her in elite status. If you are interested in learning more about Invisalign or any other dental procedures, please contact Pelican Landing Dental at (239) 948-2111 for a free consultation. To receive $1,000 OFF of Invisalign, call to RSVP. Space is limited to 15 people.
Drs. Rich and Lacy Gilbert
23451 Walden Center Drive, Suite 100
Bonita Springs, Florida 34134
(239) 948-2111
www.pelicanlandingdental.com