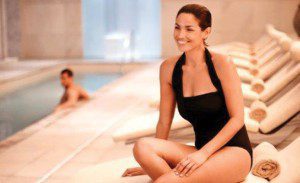 Celebrated in movies and songs, the weekend looms large in the imagination. It seduces us with the heady possibilities of recreation, relaxation, and romance. It's our eagerly anticipated escape valve, a release from the daily grind. Every so often, we need to get away from the usual, without making it seem like work. The perfect luxurious getaway is within reach.
About Fontainebleau Miami Beach
A spectacular blend of Golden Era glamour and modern luxury, Fontainebleau Miami Beach merges striking design, contemporary art, music, fashion and technology into a vibrant guest experience. A revered landmark and symbol of style and sophistication since its opening in 1954, Fontainebleau Miami Beach boasts 1,504 guestrooms and suites appointed with lavish amenities and iMacs; the world-renowned LIV Nightclub, 12 restaurants and lounges including two AAA Four Diamond signature restaurants, Scarpetta and Hakkasan; the 40,000-square-foot Lapis spa with mineral-rich water therapies and invigorating treatments; a dramatic oceanfront pool-scape offering lush cabanas and sun loungers; and is home to BleauLive, the innovative concert series that combines intimate performances with memorable weekend escapes.
Luxurious Relaxation and Rejuvenation
Awaits You
Lapis Spa, designed by renowned architecture and design firm Richardson Sadeki, and inspired by the world's earliest traditional thermal spas, is a 40,000 square foot, two-story sanctuary that features 30 private treatment rooms in a light, contemporary space with restorative healing water therapies.
Spa interiors, treatments and programs have been holistically designed to create an environment that is contemplative, sophisticated and recuperative. Upon entering Lapis, each guest is given a plush robe, pair of slippers and a guide detailing the space's amenities. The spa houses separate lounge and locker areas for women and men as well as communal areas to encourage the social interaction that was once so commonplace in thermal baths. The ladies' area, designed with white marbles, white oak accents and maple floors, is enveloped in soothing hues, which subtly become darker as one moves further into the spa. The ladies' area is outfitted with private lockers and dressing rooms, tranquil lounges with heated baths, deluge showers, custom stone hammams, rain showers and steam rooms – all designed to complement the treatments. The handsome gents' area features rich brown American Walnut wood and darker hued marbles and offers lounges with heated baths, deluge showers and custom hammams. Two larger oceanfront rooms or Duets called Azure and Indigo, are designed for couples or small groups, and are fitted with their own private steam rooms, hot baths and treatment tables. Variously a solo sanctuary or social meeting place that revives true spa culture, Lapis provides intimate moments within a quiet collective so guests can experience the healing power of thermal therapies and treatments designed to create positive change.
The mineral rich waters that are incorporated into Lapis treatments are infused with a red seaweed extract farmed from the coast of Brittany. This particular seaweed survives in extreme environmental conditions and has adapted a protective, UV-resistant membrane to guard from harsh rays and extremely dry conditions during low tide. When absorbed by the skin and hair, the seaweed forms an invisible, long-lasting barrier that acts as a shield from harmful UV rays allowing the skin and hair to retain moisture. The calcium and magnesium in the seaweed helps to repair damage caused by environmental conditions. Guests are encouraged to experience the therapeutic qualities of this mineralized water prior to treatments by exploring Lapis' unique water journeys such as the Path to Relaxation, which begins with a dip in the Immersion Mineral Jet Pool, followed by a plunge in the Energy Deluge Shower, stroll through the 35 foot Elements Rain Tunnel, and concluding with a relaxing float across the 65 foot jetted Essence pool.
Lapis also houses a full service hair salon and nail spa, Lapis Salon, as well as a signature boutique where many of the amenities and products used during treatments are available.  Lapis Retail carries the latest and most effective bath and body products, combined with an eclectic selection of must-haves including a unique assortment of workout clothing and yoga-inspired loungewear, lingerie, books and more. Lapis' assortment also includes a strong presence of natural and organic products.  Product lines include: Intraceuticals, Thalgo Yonka, Tata Harper and perfumes, bath salts and candles from Lollia by Margot Elena are all available for purchase.
As Miami Beach's largest destination resort, the Fontainebleau Miami Beach has a rich history, modern aesthetics, and an energy all its own. At Fontainebleau Miami Beach, it's about living in the moment. With two of South Beach's hottest clubs, several raved about restaurants, bars, nine pools, and a stupendous spa, everyday moments are turned into lifelong memories. Make time for yourself and indulge in a weekend getaway at Fontainebleau Miami Beach that will leave you refreshed and revitalized.
For general information or accommodations at Fontainebleau Miami Beach, visit www.fontainebleau.com or call 1.877.512.8002.