By Justin Lee –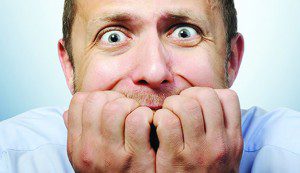 There are many reasons that people use to avoid the dentist; busy schedule, previous "bad" experience, and outright fear… Yes, let's be honest, studies show that around 75% of us have some sort of apprehension regarding a trip to see our friendly smile experts. This probably is not too shocking; considering that most people are not thrilled with the idea of needles, drills, and the like. However, there is a segment of the population that encounters a more severe reaction to dentists. They have dentophobia, the heightened fear of going to the dentist. This is when people are absolutely terrified of anything and everything having to do with dental care. For this group, there are steps that be taken to overcome their fear.
First of all, there is much to fear from NOT going to a dentist. Without proper treatment and prevention, various conditions can become quite serious; ranging from gum disease, tooth decay, and even mouth cancers. Avoiding care will only ensure that more extensive treatment will be required down the road.
What can you do if you experience this phobia? Well, certain techniques can help. The "fear of the unknown" allows our imagination to fill in the gaps with scary images, or the "friend of a friend" horror story that has made its way around the office. Take some time to learn more about the procedures before your visit. This will reduce the amount of unknowns and, thus, the amount of fear you will have. Also, let your dentist know about your apprehensions. According to local expert, Dr. Sonia Rocha, explaining the procedure thoroughly to her clients gives them peace of mind and helps minimize their concerns. Another thing to ask your dentist is the chance to hold some of the equipment before they start using it. Getting a chance to handle the tools can take away more of the mysteries surrounding your experience, as well.
Take this a step further and bring a few of your own tools to the visit. What? What tools do I have? Well, one of the reasons people cite for their fear is the difficulty of breathing through their nose. If you are one of the many people that are mouth-breathers, try bringing a nasal strip that is designed for snoring. It can open your nostrils and help you breathe more freely during the procedure. Also, if the sound of drilling makes you "uncomfortable", earplugs can work wonders. Or better yet, ask your dentist if you can bring in headphones. A little dose of your favorite music should set you at ease.
In many cases, people who are afraid of the dentist just choose not to go. Again, this only makes matters worse. Not receiving appropriate and timely dental care can result in serious conditions that require more invasive procedures. It ends up being a self-fulfilling prophecy. Choose a dentist that is understanding of your anxiety and willing to ease your fears.
Tower Dental is located at 27400 Riverview Center Blvd. Bonita Springs, FL and 11121 Health Park Blvd., Suite 200, Naples, FL. Dr. Sonia Rocha has made it a priority to offer a comfortable and relaxed office experience. She graduated from New York University and has over 20 years of experience. Dr. Rocha is also a proud veteran of the United States Air Force. She can be reached
at (239) 495-7400.
Dr. Sonia Rocha of Tower Dental in Bonita Springs and Naples is one of the most experienced and caring dentists in Southwest Florida. Dr. Rocha and her office team will see that you get the care you need on an individual basis catering to  your dental needs.  Tower Dental Arts is a state of the art dental facility that provides superior dental care for you and your family members.