By Frank Lehninger, David Lawrence Center Senior Child Psychiatrist –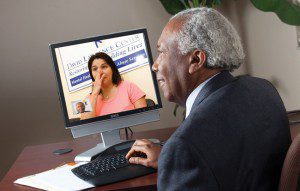 David Lawrence Center, the Southwest Florida-based, not-for-profit leading provider of behavioral health solutions serving children, adults and families, recently received a grant from the Naples Children & Education Foundation (NCEF), founder of the Naples Winter Wine Festival, to expand the Center's innovative, nationally recognized telemedicine program to help more children in need. Telemedicine utilizes high-definition video conferencing units to bring doctors, therapists and clients together virtually.
The grant will help improve access to mental health care by providing screening, early identification, and expanded capacity of David Lawrence Center children's outpatient services. The funding was used to purchase and install the telemedicine equipment at Youth Haven and Healthcare Network of Southwest Florida allowing their clients and patients direct access to David Lawrence Center psychiatrists and mental health therapists. The goal is to streamline the path to mental health – making it easier for parents and increasing the likelihood children will receive services and ultimately improve treatment outcomes.
David Lawrence Center has been utilizing the technology for routine follow up medication management appointments for prescription refills between the main office in Naples and their satellite office in Immokalee for the past several years. The grant will now allow for two addition location sites and will expand to also provide outpatient therapy.
Telemedicine Clinical Benefits and the Future of  Telemedicine
As we gain more experience in daily practice, the clinical benefits of telepsychiatry have become evident. Common diagnoses in child psychiatry such as Attention Deficit/Hyperactivity Disorder, Anxiety Disorders, Mood Disorders, Learning Disabilities, Conduct/Oppositional Disorders, Substance Abuse Disorders and others are easily recognized by a qualified child psychiatrist. Upon receiving informed consent from the guardian and assent from the child/adolescent, the potential uses for telemedicine in a behavioral health center could be used in a variety of clinical settings including initial evaluations, psychiatric consultation, ongoing follow-up treatment and urgent care of individuals during a disaster or crisis. Once the technology continues to advance, children and their guardians may be evaluated in a familiar setting such as their home, therapist's office, or school using ipads and laptops thereby taking in consideration the patient's privacy, inability to travel to the clinic, and any potential time constraints.
Furthermore, various clinicians (e.g., the patient's case manager, therapist, physician, teacher, or other medical specialists) using secure videoconferencing equipment can participate in simultaneous telepsychiatry visits allowing for a comprehensive treatment approach. As the team leader, the treating psychiatrist may educate the patient as well as other individuals involved in the patient's care about psychopharmacologic, psychotherapeutic and additional treatment options. Referrals to other specialists such as pediatric neurologists may also be recommended allowing for a comprehensive treatment approach thereby likely improving the child's overall mental and physical health.
Face-to-Face Appointments vs. Telemedicine
Several studies comparing telepsychiatry to face-to-face evaluations have indicated high patient satisfaction and efficacy in both treatment modalities. Although this novel approach of treatment may initially increase a child's curiosity, our experience has shown both the child and parent quickly become comfortable with the telepsychiatry setting.
Even in face-to-face assessments, some children experience initial anxiety before feeling comfortable in identifying and processing their worries or concerns. An empathic, compassionate, and caring approach may facilitate the therapeutic rapport in any setting. Interestingly, most children and adolescents today are extremely savvy with social media and quickly become comfortable communicating with their doctor through a screen.
Telemedicine Limits
Despite the obvious advantages of telepsychiatry non-verbal interpersonal communication including subtle body language may be difficult to appreciate. Furthermore, testing for potential neurologic side effects from specific medications such as neuroleptic-induced movement disorders may be difficult to ascertain if clinician and patient are not in the same room.
Frank Lehninger, MD is a triple board certified adult, child/adolescent and geriatric psychiatrist at the David Lawrence Center which provides inpatient, outpatient, residential and community based prevention and treatment services. Lehninger serves as the Senior Physician in Children's Services. For more information about David Lawrence Center call 239-455-8500 or visit DavidLawrenceCenter.org.