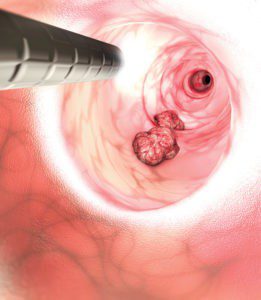 Many of us can be hesitant to discuss the details of our bowels, nevertheless entertain the prospect of a colonoscopy. With colorectal cancer being the second leading cause of cancer deaths in the United States, any reluctance needs to be set aside in discussing symptoms and colon screenings with your doctor.
The most common and effective screening method for colorectal cancer is a colonoscopy. According to the American Society for Gastrointestinal Endoscopy, colonoscopy is a common and very safe procedure that examines the lining of the lower intestinal tract called the colon or large intestine. When used as a colon cancer prevention method, colonoscopy can find potentially precancerous growths called polyps and remove them before they turn into cancer.1 The tool used, called a scope, is typically a four-foot long, flexible tube about the thickness of a finger with a camera and a source of light at its tip. This allows the doctor to closely see the inside of the entire colon and rectum. Colonoscopy can also show irritated and swollen tissue, ulcers, and cancer.2 It is the only screening test that can both diagnose and treat the problem.
You may be thinking, but why do I need to get colonoscopies? How often should I be going? The American Cancer Society recommends that people at average risk of colorectal cancer start regular screening at age 45. This can be done either with a sensitive test that looks for signs of cancer in a person's stool (a stool-based test), or with an exam that looks at the colon and rectum (a visual exam).
People who are in good health and with a life expectancy of more than 10 years should continue regular colorectal cancer screening through the age of 75. For people ages 76 through 85, the decision to be screened should be based on a person's preferences, life expectancy, overall health, and prior screening history. Those over the age of 85 should no longer get colorectal cancer screening.3
If after a colonoscopy you find yourself in need of digestive health care or are having GI issues, Physicians Regional Healthcare System's Digestive Health Navigator Jennifer Gaffoli-Woodruff, RN, is here to provide seamless coordination of service and support for you or your loved one.
"I want people in the community to know that Physicians Regional offers Digestive Health Navigation. Many people have heard of Breast Navigators, but Digestive Health Navigation is relatively new in this area, and we are the first organization in southwest Florida to bring one on staff, says "Jennifer Gaffoli-Woodruff, RN.
Jennifer is a registered nurse and has specialized clinical knowledge in digestive health to include chronic conditions such as Crohn's disease, ulcerative colitis, and cancers related to the gastrointestinal tract. As the Digestive Health Navigator Jennifer's role is to ensure newly diagnosed patients understand their diagnosis and treatment plan, along with making sure their wants and needs are expressed to their healthcare provider.
Not only will she take care of coordinating whatever services and support patients may require (i.e. lab work , x-rays, wound care, nutrition consult transportation; etc), but she's also a direct contact person to help answer questions, provide emotional support or just listen to the concerns and fears of the patient.
Jennifer says, "My hope is to lessen the burden that patients are carrying, and strive to make the services and care provided seamless so the patient can focus on their health and well-being."
For more information on our physicians please call, 239-348-4221 or visit
 PhysiciansRegionalMedicalGroup.com.
1. https://www.asge.org/home/for-patients/patient-information/
about-colonoscopy
2. https://www.niddk.nih.gov/health-information/diagnostic-tests/colonoscopy
3. https://www.cancer.org/cancer/colon-rectal-cancer/
detection-diagnosis-staging/acs-recommendations.html