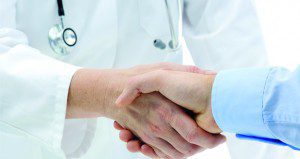 Selecting a primary care physician (PCP) is one of the most important health decisions you'll make. And thanks in part to the Afford able Care Act, which has dramatically increased the number of people with health insurance, more people than ever are now searching for a physician they can call their own.
Your primary care doctor is your medical "home." It's the doctor you visit for most medical needs, including wellness visits and preventive exams, non-emergency illnesses like earaches and sore throats, as well as chronic conditions like diabetes and high blood pressure. They will assess your symptoms, direct you to the right specialist, if necessary, and oversee all of the care you get.
Here are five tips for choosing a primary care physician:
1. Find a Physician who is Board Certified in Family Practice.
Family practice physicians treat patients of all ages, from newborns to the elderly and have training in Obstetrics and Gynecology, Pediatrics, Internal Medicine, and Psychiatry. They treat a wide variety of conditions, and often can also treat ailments you'd normally see a specialist for, like sports injuries or women's health needs.
2. Verify the Physician is "In-Network" with your insurance, or has affordable self-pay fees.
Ensuring that you select an "in-network" doctor will help you avoid a surprise "out-of-network" charge or having to pay in full out of pocket because the doctor you've selected doesn't accept your insurance plan.
3. Ask for referrals.
Many people feel most comfortable visiting a physician who is recommended by someone they know, like a family member, coworker or friend. Google can also be your friend. Most doctors have at least some degree of online presence and a website that can give you valuable insights.
4. The best Physicians are the caring ones.
A caring physician: Listens to patients' concerns, makes eye contact, and asks and cares about patients' personal stories; discusses the plan for the visit and the future, offers a warm smile and empathizes; and avoids or explains unfamiliar medical terms.
5. Visit the Doctor.
Nothing can really give you a feel for whether you've selected the right doctor like an office visit and a face-to-face meeting. Be sure you feel comfortable in the office and with the physician and nurses.
Your primary care physician should be someone you trust and can rely on to help manage your healthcare.
Don't wait until you get sick to choose a PCP. Primary Care Physicians may see their patients regularly and look for symptoms a patient may not notice. For example, a routine health exam may uncover conditions such as high blood pressure or even hormonal imbalances due to glandular problems. Health problems like these can go unnoticed by the patient for years and could result in serious chronic health issues. Annual exams may help your PCP guide you toward healthy lifestyle habits that may decrease the likelihood that you'll need expensive specialty care.
Developing a relationship with your Primary Care Physician can help keep illnesses at bay. Remember the old adage: An ounce of prevention is worth a pound of cure.
Joseph Richichi MD is a Board Certified Family Physician who has been practicing in Southwest Florida for 30 years. His practice, Pelican Primary Care, is currently accepting new patients and is located off US 41 by the Coconut Point Mall in Bonita Springs/Estero. For more information please contact his office (239) 514-2008, or visit their website www.PelicanPrimaryCare.com.