By Cara Tompot, Staff Writer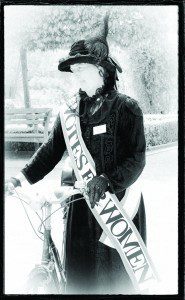 Looking back on history, we remember a time when women didn't ha ave the rights that they do now. Prior to 1919, women didn't have any way to express their thoughts and desires through public policy. Thanks to first-wave feminists questioning the status quo, 1920 marked the first year that women could vote. This social change marked a moment in history when women finally had the right to take control of their own life. In many ways, the history of women's suffrage is similar to the road to regenerative medicine advancements.
Much like women fighting for equality, patients have been fighting for a new way to treat their chronic lung disease. Now, with the advancement of stem cell therapy, sufferers of chronic lung disease are no longer limited to the confines of traditional medicine—which involve managing symptoms rather than the disease. Stem cell therapy, like women's voting rights, helps people take control of their life by giving them a voice.
For years, people accepted the status quo, and for people suffering from chronic lung diseases like COPD, the status quo meant a constant struggle for oxygen. As an incurable disease, most sufferers felt that they didn't have any options. But now, everything has changed.
One state-of-the-art clinic, the Lung Institute, developed an alternative. Stem cell therapy helps sufferers finally breathe easier. People are no longer forced to accept the fate of continual disease progression or an invasive lung procedure. Stem cell therapy harnesses the healing power of a patient's own stem cells to help regenerate damaged lung tissue.
Today, lung disease can be treated with adult stem cells harvested from the patient's own fat, blood or bone marrow to replace damaged lung cells with healthy ones. According to the clinic's website, www.lunginstitute.com, this innovative procedure slows the progression of the disease, in addition to, restoring lung function and reducing inflammation. The result is the ability to breathe easier.
Similar to the fight for women's rights, doctors and patients have been diligently looking for a new way to treat lung disease. Now, with the advancement of stem cell therapy, patients can finally combat disease progression. As with any change, some physicians and patients may be slower to adopt new ideas while clinging to traditional approaches; however, just as social change made it possible for women to have a voice in the government, clinical advancements like stem cell therapy make it possible for patients to have a voice in their healthcare. If the fight for equality is any sign of the future of stem cell therapy, there is no doubt that stem cells will become the status quo for treating lung disease.
If you or a loved one suffers from a chronic lung disease, the specialists at the Lung Institute may be able to help. You can contact the Lung Institute at (855) 914-3212 or visit lunginstitute.com/health to find out if these new treatments are right for you.