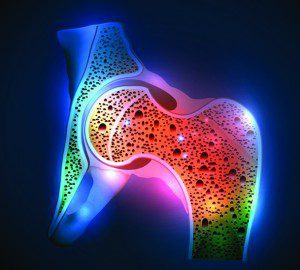 Osteoporosis results in more than one million hip, spine and wrist fractures annually. This disorder affects nearly one-half of all postmenopausal women, the largest group at risk for osteoporosis.
Research in osteoporosis, the disorder in which progressive bone loss results in increased risk of fracture, is making important new advances. A key factor in the success has been the availability of new and improved equipment to measure bone density.
Are your bones fragile? Could it be time for you to have a bone density test? Bone density tests (also called bone mineral density tests or bone scans) evaluate the strength of your bones by measuring a small part of one or a few bones. Knowing the strength of your bones can help your doctor recommend prevention steps and osteoporosis medication, if needed, to prevent bone loss and fractures.
DEXA (Dual Energy X-ray Absorptiometry) is the most commonly used test for measuring bone mineral density.  DEXA is one of the most accurate ways to diagnose osteoporosis, a condition that often affects women after menopause but may also be found in men. Osteoporosis involves a gradual loss of calcium, as well as structural changes, causing the bones to become thinner, more fragile and more likely to break.
DEXA is also effective in tracking the progress of treatment for osteoporosis and other conditions that cause bone loss. The DEXA test can also assess an individual's risk for developing fractures. The risk of fracture is affected by age, body weight, history of prior fracture, family history of osteoporotic fractures and life style issues such as cigarette smoking and excessive alcohol consumption. These factors are taken into consideration when determining the proper treatment plan for patients.
The National Osteoporosis Foundation recommends bone density testing if you:
. are a post-menopausal woman and not taking estrogen.
. have a personal or maternal history of hip fracture or smoking.
. are a post-menopausal woman who is tall (over 5 feet 7 inches) or thin (less than 125 pounds).
. are a man with clinical conditions associated with bone loss.
. use medications that are known to cause bone loss, including corticosteroids such as Prednisone, various anti-seizure medications such as Dilantin and certain barbiturates, or high-dose thyroid replacement drugs.
. have type 1 (formerly called juvenile or insulin-
dependent) diabetes, liver disease, kidney disease or a family history of osteoporosis.
. have high bone turnover, which shows up in the form of excessive collagen in urine samples.
. have a thyroid condition, such as hyperthyroidism.
. have experienced a fracture after only mild trauma.
. have had x-ray evidence of vertebral fracture or other signs of osteoporosis.
Osteoporosis occurs when the body loses bone faster than it can be replaced. When bones become weak and have a greater likelihood of breaking, hip or other fractures become a risk. The DEXA-scan identifies the density of bones to determine risk for osteoporosis, fractures and broken bones.  A bone scan using the DEXA-scan is similar to an x-ray. The process is quick (approximately 10-20 minutes) and painless. A patient relaxes on a cushioned bed during the scan. A bone density test is recommended every one to two years to measure changes in bone density. Women in particular are susceptible, as four out of five people with osteoporosis are women. Annually, women suffer more fractures due to osteoporosis than they do heart attacks, strokes and cases of breast cancer combined.
Radiology Associates of Venice & Englewood offers a full range of imaging services to help detect osteoporosis and other diseases. For information on osteoporosis and how to receive a DEXA-scan, call 941-488-7781 today.
Radiology Associates of Venice & Englewood
www.raverad.com
VENICE
512-516 S. Nokomis Ave
Venice, FL 34285
941-488-7781
Hours: 8:00am-5:00pm
ENGLEWOOD
900 Pine Street
Englewood, FL 34223
941-475-5471
Hours: 8:00am-5:00pm