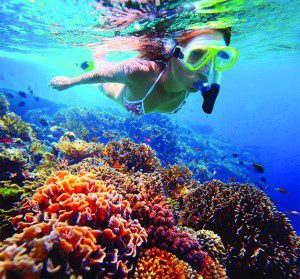 There are lots of reasons people want to ditch their glasses—ranging from "I can't see anything when I'm snorkeling!" to "My glasses get in the way when I give my husband a kiss." Many dream of waking up one morning and being able to see without prescription lenses. LASIK can do just that! Patients even comment that they can't imagine why they didn't do it sooner!
Look Before You LASIK!
Choose your LASIK surgeon as if your sight depended on it…because it does. The safety of LASIK primarily hinges on determining whether a patient is a good surgical candidate in the first place. The fact is, not everyone is well-suited for the procedure. Upon examination, some patients will discover that their corneas, although healthy, are too thin for LASIK surgery. But there are a host of other vision correction treatments that may allow these patients to experience the same great benefits that LASIK provides. Clear Lens Replacement (CLR) is another popular choice for people who want to see distance and near without glasses. At The Eye Associates, you can trust Dr. Cathleen McCabe and Dr. Brian Foster to help make the decision that's right for your eyes.
What's Involved in Having LASIK Surgery?
LASIK, or Laser-Assisted in-Situ-Keratomileusis is eye surgery that can correct nearsightedness, farsightedness or astigmatism. The procedure reshapes the cornea to enable light entering the eye to be properly focused onto the retina, resulting in clearer vision. For many years, eye surgeons used a mechanical surgical tool called a microkeratome (blade) to make a thin circular "flap" in the cornea, which allowed access to the tissue beneath. Today, our Bladeless All-LASER LASIK surgeons, Dr. Cathleen McCabe and Dr. Brian Foster, use a femtosecond laser, called the LenSx Laser, to quickly and accurately create this corneal flap. We use the LenSx because it adds an extra degree of precision, accuracy and reliability that's not possible with the hand-created flap. Once the flap is created, the computer controlled VISX excimer laser is then used to gently change the curvature of the cornea.
For nearsighted people, the goal is to flatten the cornea, while the cornea is made steeper to correct farsightedness. Astigmatism can also be corrected with the laser, smoothing a distorted cornea into a more normal shape.
Advanced Technology
Custom LASIK, using NASA space-inspired Wavefront technology, allows The Eye Associates to offer patients the next generation of vision correction. In the past, it was not possible to measure the many unique imperfections of the eye. With Custom LASIK, we are able to capture and correct these imperfections in an individual person's eye with 25 times more precision compared to what could be done with standard measurements for glasses and contact lenses. The FDA approved VISX excimer laser we use excels at LASIK because of its safety record, precision and predictability. Clinical study results 1 year after the VISX Custom LASIK show:
• 100 percent of participants could see well enough to legally drive a car (20/40 or better)
• 94 percent of participants achieved uncorrected visual acuity of 20/20 or better.
Our in-house laser center controls temperature and humidity; key elements important to good surgical results. In addition, our skilled technicians adhere to strict sterile requirements and are uniquely and exclusively dedicated to eye procedures.
Important Safety Features
The VISX® Star 4 laser has the following unique safety features:
ActiveTrak™ 3D Eye-Tracking – detects and continuously compensates for eye movements, virtually eliminating any fear of human error.
VISX® Iris Registration™ – takes a wavescan-generated picture of your unique iris and transfers it to the laser to automatically compensate for any rotation that could occur when you lie down, thereby insuring an accurate outcome and eliminating the worry of errors.
VISX® Custom Vue WaveScan™ – captures and precisely corrects your eye's unique imperfections. It also has been shown to improve night vision in some patients.
VISX® Exclusive SmartBeam™ – adjusts the laser beam size according to treatment, minimizing the amount of corneal tissue that needs to be removed and reducing healing time.
Experience Matters
Choosing LASIK at The Eye Associates means choosing doctors committed to safety, comfort, accuracy and the most advanced technology available. Dr. Cathleen McCabe is a highly skilled LASIK, Clear Lens Replacement and Cataract surgeon. She has performed over 17,000 LASIK surgeries and was named on the following lists: LASERVISION Top 100 Surgeon, Castle Connolly's Top Doctor for Ophthalmology and the Premier Surgeon 300 List. Dr. Brian Foster is a Fellowship Trained Corneal Specialist who performs the latest corneal transplantation procedures, as well as providing LASIK, Clear Lens Replacement and Cataract surgery. He is also unique in that he is a LASIK patient himself, knowing firsthand the benefits of having LASIK.
To find out if you are a LASIK candidate, call 1-866-865-2020 or go to Sight4Life.com to schedule a FREE LASIK Screening. You can also go to the homepage and take our LASIK Self Test for more information.