By Dr. Alexander Gaukhman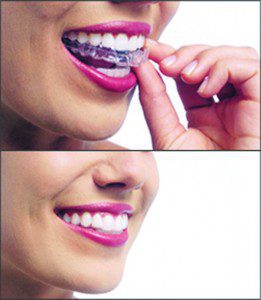 The fact is that virtually nobody is born with perfect teeth or an ideal bite. However, for most people these are not serious issues (though  for some, they may become serious later in life if left untreated).
A fair number of people have teeth that are misaligned. Overbite is common; less common is underbite. In some patients, an extra set of teeth start to erupt, pushing existing teeth into an odd position. Occasionally, such misalignment can be the result of an injury. People can also do it to themselves by grinding or clenching their teeth frequently. There are numerous reasons why someone's bite can get out of proper alignment.
Problems with Misaligned Teeth
The problems of misaligned teeth go far beyond the undesirable physical appearance of crooked teeth. Generally, there is always some measure of pain and discomfort when teeth are not aligned properly. For one thing, people with cooked teeth have a tendency to bite the inner surfaces of their mouths while chewing more frequently. This is extremely painful; even worse, the area around the bite can swell, making it more likely that the person will accidentally injure themselves again in the same place.
Swollen, red gums can often be the result of having teeth that are crowded or too widely spaced. Unfortunately, these are also signs of periodontal disease. When teeth are properly aligned, it helps the gums fit more securely around the teeth, allowing for the strongest and healthiest defense against potential periodontal problems. That's where Invisalign comes in. The comfortable and clear aligners gently and gradually begin to move your teeth into the proper position — without unsightly brackets and wires.
Misaligned teeth can also cause premature tooth wear on the surfaces of the teeth as these surfaces grind against each other. One of the lesser known, but more serious complications associated with misaligned teeth is Temporo-Mandibular Jaw (TMJ) pain. This pain and discomfort not only affects the jaw, but also the neck and even the shoulders, and can cause frequent headaches ranging from mild and occasional to severe and chronic.
Why Not Just Get Braces?
You may or may not have noticed, but very few people wear metal braces anymore. Not only can metal braces be extremely uncomfortable and place severe restrictions on what the patient can and can not eat, they require regular adjustments – a mildly painful procedure.
Metal braces also make it difficult to keep one's teeth clean. One of the biggest challenges of having braces is removing all the food that gets trapped in the brackets and wires. This can often lead to plaque buildup and eventually tooth decay. With Invisalign, the aligners are removable, so it's easy to continue brushing and flossing your teeth the way you normally do.
Benefits of Invisalign
The Invisalign method of orthodontic treatment has made old-fashioned braces virtually obsolete. These retainers require no adjustment – you simply return to your dentist to get a new retainer as your teeth settle into a proper position. In addition, Invisalign retainers can be removed for eating and cleaning (though these are the only times they should be removed). The best part for many patients however is the fact that results can be seen in as little as 12 months.
It's well known that Invisalign is a faster, more effective, more hygienic and more comfortable alternative to metal braces. The relatively small additional cost of Invisalign treatments is well worth the many benefits and faster results obtained.
You may be surprised that the benefits of having properly aligned teeth extend far beyond a confident smile. According to the American Dental Association, straightening your teeth can actually significantly affect your overall dental health. Think about it — a smile can hardly be perfect if it's not a healthy one. Fortunately, with Invisalign, having a confident smile and reducing your risk for tooth decay and gum disease go hand in hand.
Siesta Dental
Sarasota
5223 Avenida Navarra
Sarasota, FL 34242
(941) 266-7000
Osprey
416 S. Tamiami Tr. Suite F1
Osprey, FL 34229
(941) 497-5650
Venice
463 US HWY 41 Bypass S.
Venice, Fl 34285
(941) 375-4488