By Sydney Tateo, DNP, APRN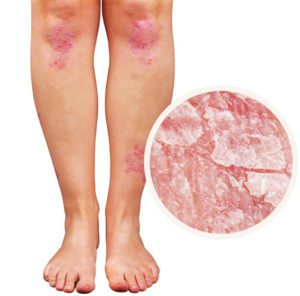 Psoriasis is a chronic skin disease characterized by an overactive immune system which causes skin cells to build up. The excess skin cells accumulate to form red, inflamed, plaques. Some individuals may develop a type of psoriasis which also affects the joints, called psoriatic arthritis.
Treatment for psoriasis has come a long way. For small focal areas, topical creams can effectively manage the disease. When the disease becomes more widespread or causes significant symptoms, oral medications and injectable medications are available. Today, there are numerous systemic medications that target the pathway specific to psoriasis, which results in fewer side effects and much lower risks compared to older medications.
As with most chronic diseases, there are a few key lifestyle modifications that can greatly help manage symptoms and prevent flares. People with psoriasis should stop smoking. Research also indicates that stress can exacerbate psoriasis symptoms. Patients should seek professional treatment if they need assistance with smoking cessation or stress management.
Moisturizer creams and ointments should be used daily to keep moisturized and nourished. Some creams also have active ingredients in them that will help exfoliate scaly plaques. Medicated shampoos are essential in managing psoriasis on the scalp. These shampoos exfoliate the skin and allow the excess skin cells to slough off.
Do not hesitate to reach out to us here at Skin Wellness Physicians for an evaluation. We understand that psoriasis can be an embarrassing and frustrating disease that impacts much more than just the skin.
Sydney Tateo, DNP, APRN
Board certified by the American Academy of Nurse Practitioners American Academy of Dermatology National Academy of Dermatology Nurse Practitioners American Association of Nurse Practitioners Sigma Theta Tau Honors Society
239.732.0044
www.SkinWellnessFiorida.com