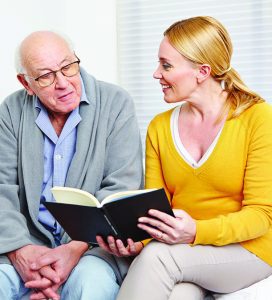 The physical and mental decline that comes with the aging process affects everyone in a different way. Some seniors find it particularly difficult to cope with the limitations of age. As a result, they may turn to denial and refuse assistance from loved ones. Services that provide in-home care staff offer a gentle alternative to senior homes. Even the most resistant senior will learn to love the benefits afforded by in-home care.
1. Stay in a Comfortable
Environment
Alternative options to in-home care are often much more disruptive to daily life. Aging inherently involves dealing with increasing amounts of loss, and maintaining a familiar environment in the midst of difficult life changes makes a world of difference.
2. Maintain Independence
Loss of independence is a common cause of depression in seniors. Senior depression has lasting implications on long-term health and wellness. Choosing in-home care avoids stripping a loved one of independence before it is absolutely necessary.
3. Constant Companionship
Declining health and frailty often prevents seniors from getting out as much as they would like. Having the constant companionship offered by regular visits from in-home care staff is a welcome change that homebound seniors often began to look forward to and treasure.
4. Stability Through Routine
Seniors who need an in-home care service often have declining cognitive functions. A home health worker can help them establish a routine and keep a regular schedule for meals and medications. This improves overall health and well-being.
Quality Care
In-home care is all about making the changes that come with aging much more bearable. A good agency can provide staff that ease the burden of loved ones and improve the daily life of the senior in their care. Just Like Family Homecare strives to keep patients in their home as long as possible. Whether you or the senior in your life needs assistance four hours a day or around the clock, our friendly team can provide the quality senior home care and support you need! Call Just Like Family Homecare at 239-431-6661 to learn more.
To find out more, please visit their website at justlikefamilyhomecare.com, or call (239) 431-6661
5. Home and Hygiene Assistance
A clean house and a well-groomed appearance can do wonders towards enhancing self-esteem and warding off depression. As the aging process imposes physical limits, a decline in ability to take care of basic hygiene and house cleaning follows. In-home care staff helps seniors retain their dignity through a regular hygiene routine and tidy home.