By Ramon Gil, M.D.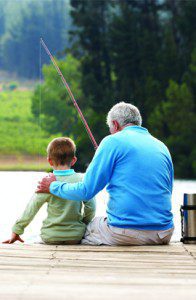 As scientists and medical researchers continue to make progress searching for the cause(s) of Parkinson's Disease (PD), and ways to eventually "cure" this illness, the treatment has become not only more effective, but more specialized, requiring from both:  patients and treating neurologists, a more comprehensive understanding of the different aspects of this complex disease. The amount of information in the field of PD and related disorders that becomes available every day is overwhelming, but exciting and encouraging. It seems as if every area of investigation is leading to a better quality of life (QOL) for patients and family members.
At the Parkinson's disease Treatment Center of SW FL, there is a firm commitment to bring state of the art treatment and cutting edge technology to our community.  Striving to perfect our assessments and provide more individualized management, has never been more solid than today. For over 20 years we have empowered our patients and families, with the strongest tool of all:  "Education."
This year our April "Parkinson's Awareness Month Symposium," will bring to the audience a dynamic and interactive update in the conventional rehabilitation modalities. In each presentation, you will notice how the boundaries between "traditional" forms of therapies and "unconventional therapies" are becoming more difficult to separate. We have a group of well-known speakers, with whom most of you have interacted in the past.
Sergio Valdivia, PT, DPT will explain how patients can optimize their balance and significantly reduce the risk of falls, which are often associated with injuries and worsening of QOL. It is critical to remind patients that loss of postural reflexes in PD is unavoidable. As long as a patient lives long enough, this will eventually occur. The most effective treatment is to delay this complication with early interventions to optimize our physical fitness, endurance, flexibility and balance.  Sergio will demonstrate how Tai Chi and dancing can help you achieve these goals.  The International Parkinson's Disease and Movement Disorders Society and the American Academy of Neurology have published many papers supporting the fact that Tai Chi is the most effective modality of exercise that can help reduce the number of falls in PD patients.
We could not miss the opportunity of having one of the finest, world-wide recognized, Speech Pathologists as part of our Faculty:  Mary Spremulli, MA, CCC-SLP.  She will be speaking about the advances in research and treatment of speech disturbances in PD.  Mary reminds us that: "Approximately 70-90% of individuals with Parkinson's disease will experience a PD-related voice/speech disorder, which has been shown to affect overall QOL ratings. The LSVT®_LOUD (Lee Silverman Voice Treatment), an intensive, high effort voice training program, has been shown to benefit PD-related voice impairment.  However, cognitive and psychomotor dysfunction may also contribute to speech disorders, and for this reason, some patients may fail to carryover therapy techniques to every day conversation, or fail to maintain the improvements made in speech beyond formal therapy."  Mary will discuss and demonstrate a few of the available device interventions, and after-therapy programs, including Voice Aerobics® and Hi-VOLT® 4 PD.
Very few professionals in the field of Occupational Therapy have the clinical experience in managing PD that Sally Thimm, OTR/L, has accumulated over the past 20 years.  She has worked hand in hand with many of our patients in SW FL.  In her presentation:  "Home Management Tips for People living with Parkinson's", Sally will review a number of ways to make the daily routine of living with PD, a little bit easier.  She will discuss medication organization and management, ways to make bathroom and bedroom  mobility easier, and make some suggestions to manage dressing and bathing.  "It's all about staying as independent as possible and keeping the Caregiver happy!"
Clinical research is the corner stone on top of which we built the progress in the management of PD.  Without it we would still be facing a devastating illness with a lifespan of 7 to 10 years from the time of diagnosis.  Our Senior Clinical Research Coordinator at the PD Treatment Center of SW FL, Judy Seymour, CMA (AAMA) CCRC, will review the benefits of participating in clinical trials and the importance of helping in the process of bringing new, more effective and better tolerated drugs, to the forefront.
Finally, I will review the evolution of the most commonly used and effective symptomatic drug for the treatment of PD:  Levodopa.  The journey from the 1960's to 2016 is nothing but fascinating, and after 50 years of using this drug, in 2015 the FDA approved two new formulations:  Duopa® and Rytary®. New delivery systems for Levodopa are currently in clinical trials: an aerosol inhaler and a "patch".  The cure is not here yet, but closer than ever.  Join us to learn more.  Become a more educated, confident and successful patient and care partner team.
Specialized in Parkinson's Disease and other Movement Disorders, Dr Gil believes that every patient diagnosed with a movement disorder deserves the most comprehensive team of healthcare providers aimed at improving quality of life. We work together with experts from all related fields including: Physical, Occupational, and Speech therapy, Neuropsychologists, and Neurosurgeons. Dr.Gil's practice is also dedicated to clinical research, and outreach programs, dedicated to promoting the mission of the practice.
Ramon A. Gil, M.D.
Medical Director, Parkinson's Disease
Diplomate, American Board of Psychiatry and Neurology
Parkinson's Disease Treatment Center of SW Florida
Call 941.743.4987