Advanced Hearing Solutions Inc. is proud to announce that we are now an authorized Phonak Lyric provider
By Dr. Noël Crosby, Au.D.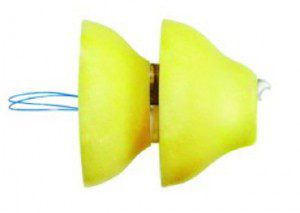 Lyric is the only hearing aid that is 100% invisible and can be worn 24 hours a day 7 days a week, for months at a time, without requiring a battery change.  The Lyric device is hidden deep inside the ear canal, just 4 millimeters from the ear drum.  The Lyric is not an implant; it can be removed with a small magnet. Typically, anything that clogs the ear canal would trap moisture and pose an infection risk, but the Lyric is surrounded by a spongy material that allows moisture to escape.  Because it sits so close to the eardrum, it allows sound  to seem more natural because it doesn't have to be amplified as much.  When the Lyric's battery dies, the entire device is replaced.  Patients do not pay for a new device every time; instead, they pay an annual subscription fee.
The Lyric can be worn while showering, sleeping, exercising and using headphones. The deep placement in the ear reduces background noise and feedback, offering good clarity in all environments including public places, such as the golf course or beach, where wind noise previously has been a problem.
The newest Lyric features the latest Phonak technology; a low-power, deep-ear chip for enhanced signal processing.  The new generation of Lyric also brings a more natural hearing experience to users.
Lyric is only 12 mm long and sits completely invisible deep inside the ear canal for months at a time. It uses the outer ear's natural anatomy to direct sound to the device, where it is amplified next to the eardrum. As a result of Lyric's placement, users experience improved directionality and localization, and the majority of Lyric wearers report that the sound quality is very natural. Lyric users report that communication has improved with friends and family, and that even 94% would recommend it to friends or loved ones.
The latest Lyric generation can do even more for people with mild-to-moderate hearing loss. "Lyric has been a huge success from the very beginning, and the user satisfaction rates speak for themselves", says Maarten Barmentlo, Group Vice President Marketing of Phonak. "Lyric is now fully integrated into the Phonak family of hearing aids and we have listened intently to our partners and end-users to take this great concept to the next level. We are proud to present the result of these efforts: the latest Phonak technology ensures that Lyric offers not only natural sound quality, but also improved programming flexibility to ensure an enhanced Lyric experience."  Some of the latest Lyric generation's unique benefits include:
• Next generation low-power, deep-ear chip that enables enhanced adaptive signal processing
• Adaptive signal and compression processing to provide clean, natural and undistorted sound in a variety of listening situations
• Ergonomic and easy-to-use programming wand that allows for independent, binaural programming at the ear
Please call Advanced Hearing Solutions at 941-474-8393 today to schedule an appointment to find out if you are a candidate to wear the Lyric device.
PROFESSIONAL BIO
Dr. Noël Crosby, Au.D., owner and audiologist at Advanced Hearing Solutions in Englewood, FL is a licensed professional whose 26 year career has been devoted to helping people of all ages hear and understand more clearly.  Dr. Crosby received her BS and MS degrees from FSU and her Doctorate in Audiology from UF.  Her credibility as an authority grew during her tenure as the Director of Audiology at the Silverstein Institute in Sarasota, FL from 1991-1998. Today, in addition to managing a successful audiology practice, Dr. Crosby is involved in creating hearing loss awareness through her jewelry and accessory company AuDBling.com. She has served and is serving on various professional boards and committees and was president of the Florida Academy of Audiology in 2000 and 2010.  She has been married to Michael for 23 years and has one daughter.
* Individual replacement needs may vary. Duration of device battery life varies by patient and is subject to individual ear conditions.
1 Based on a telephone survey of 100 patients who have used Lyric for at
least 30 days.
2 Blauert, J. (1997). Spatial Hearing: The Psychophysics of Human
Sound Localization. MIT Press, Cambridge, MA, p. 63.
3 Langendijk, E.H.A. and Bronkhorst, A.W. (2002). Contribution of
spectral cues to human sound localization. Journal of the Acoustical
Society of America, 112, 1583-1596.
4 Based on a telephone survey of 100 patients who have used Lyric for at
least 30 days.