The Pineapple House at Sapphire Lakes, located on Radio Road in Naples, is slated to open by the end of this year.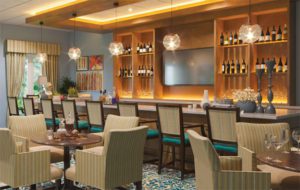 This premiere rental community will offer seniors assisted living and memory care services in an upscale, resort-style setting. With our sales center now open, folks are able to reserve their specific apartment at pre-opening prices – which are available for only a limited time. Offering a lavish lifestyle, The Pineapple House at Sapphire Lakes, is amenity-rich and features many state-of-the-art elements. This community of excellence is managed by Concierge Senior Living which has over 30 years of operational expertise within the senior housing industry.
The management of Concierge Senior Living focuses on developing, designing and operating its senior living communities with the resident at the center of it all. Making sure that residents are catered to in a compassionate and professional manner by highly trained staff are at the heart of our services. It is something you would expect from a company called, Concierge Senior Living. As customer service is our priority core competency, we invite you to experience the splendor that The Pineapple House at Sapphire Lakes has to offer.
Designed with Distinction
Utilizing a "third-generation" design concept, our communities intentionally emphasize the social aspects of what seniors desire through functionality and operational programs. While excellence in care and customer service are pillars of Concierge Senior Living, The Pineapple House at Sapphire Lakes, is an expression of how the design of the community can help to encourage strong social habits among its residents. Today's seniors expect not only excellence in care but yearn for an environment that exemplifies their own lifestyle in a place they would be proud to call "home".
The beautiful Clubhouse features a three-sided fireplace along with our signature grand piano. The Royal Dining Room provides three upscale, nutritious meals every day with an elegant atmosphere.
The Sea Breeze Terrace is a wonderful option if one wishes to dine outside. Similarly, the Pineapple Cove is an outdoor retreat with lush garden areas. The Sapphire Bar features a full range of spirits in an inviting, cozy environment as well as a fireplace. The Bistro Tropical offers an alternative, more casual menu for breakfast and lunch. Our Private Dining Room offers a secluded place for residents and families or private events. The Serenity Chapel is the perfect size chapel for small gatherings in a peaceful setting. Lastly, the second floor features the Golden Times Cinema, Aces card room, library/Media Center, activity spaces and a craft room.
Our state-of-the-art, multi-faceted wellness center features a hair salon (manicures, pedicures and hairstyling and cuts), a fitness Center (featuring treadmills, exercisers, a recumbent stepper, weight stations, gym balls and dumbbells and fit bands), a therapy room (which promotes your optimal functioning within your new home through onsite physical, occupational and speech therapy), a massage room and a full-size, outdoor swimming pool aptly called, Sunsations. It is equipped with locker rooms, showers, patio lounge areas with umbrellas and a fireplace! Lastly, we provide physician's offices for our medical director as well as other specialty physicians.
Our goal is to help you stay active, stay healthy, and stay involved. Whether recovering from surgery, an injury or experienced a change in physical level of functioning, individualized therapy programs are developed for you. Through education, orienting you to use the fitness equipment or helping to assure your safety in using the pool while making a splash with our non-impact aquatic exercise class, the wellness center (Oceana Oasis) has something that you will certainly enjoy. The benchmark for your happiness is knowing that you live in a community where your health and wellness needs are met within your extended home.
Selection of Programs and Services
While many communities offer levels of care, we have simplified the process by offering two distinctive programs that are tailored to your needs. This gives residents flexibility and greater cost-efficiency. For Assisted Living residents, our a-la-carte program allows you to pick and choose services so that you only receive those services that you desire whereas our all-inclusive program provides all care-related services. For memory care residents, our unique all-inclusive program is designed for the resident's well-being as our staff inherently focuses on caring for your loved one instead of complex levels of care that can be confusing for family members.
With a choice of a studio, one- or two-bedroom apartments, our programs include all utilities (except telephone), three meals daily offered in a variety of venues, weekly housekeeping, maintenance of your apartment, a comprehensive activities program, transportation services, access to 24-hour nursing services as well as a nurse call response system with pendant. All of this is offered within our pet-friendly community!
A Community of Excellence
Don't miss out on selecting a preferred apartment today at The Pineapple House at Sapphire Lakes. Inquire about our limited time, pre-opening pricing today by calling our sales center at 239-259-0707, visit our sales center at 7901 Radio Road, Naples, FL 34104 or find us on the web at www.pineapplehousenaples.com.