By Joseph Gauta, MD, FACOG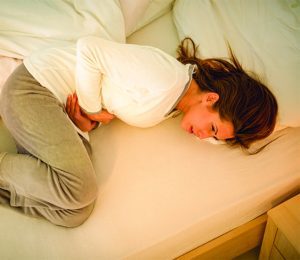 The endometrium is a mucous membrane that lines the uterus. The endometrial tissue and cells normally grows and sheds within the
uterus during the female reproductive years. When there is an overgrowth of the endometrial tissue, it begins to grow outside of the uterus onto the ovaries and fallopian tubes. When this happens, it causes extreme pain for many women due to its associated inflammation and tightening sensations, and it's continual natural process of shedding the lining (menses) even outside of the uterus.
The actual cause of endometriosis is still uncertain, but hormonal influences, hereditary factors, endometrial cell flow issues, and immune system disorders are all thought to be indicators of the overgrowth of endometrial tissue.
Symptoms of Endometriosis
• Painful periods
• Excessive bleeding
• Discomfort during sexual intercourse
• Infertility
• Fatigue
• Bloating
• Discomfort during Bowel movements and urination
Endometriosis can lead to adhesions, which are sticky bands of scar tissue that adhere and tighten the inner space and organs within the Pelvic floor and womb. Adhesions can cause a great deal of pain on a regular basis and become even more stretched and begin pulling at the organs during the menstrual cycle.
TREATMENT:
Medications
• NSAIDs (non-steroidal anti-inflammatory)
• Hormonal Drugs that either accelerates a state of menopause or andropause to stop menstrual cycle
• Progesterone
Minimally Invasive Surgery
• Laparoscopic diagnostic procedures to detect wear growths are
• Ablations that cauterized the excessive tissue growth (laser, freezing or electrical current)
Techniques and technology have dramatically improved treatment. You don't have to live with the pain of endometriosis; there are many alternatives for you to get back to being pain free.
Your First Step:
SEE A QUALIFIED PHYSICIAN TO FIND OUT EXACTLY WHAT'S CAUSING YOUR PAIN & TO DISCUSS THE APPROPRIATE TREATMENT FOR YOU.
Dr. Joseph Gauta
A urogynecologist has the skills and experience to assess the entire pelvic region including the uterus, bladder, vagina, and rectum, as well as the muscles, ligaments, connective tissue and nerves that support those systems. After years of research, experience, and qualification, Dr. Gauta opened one of the first Urogynecology offices in the country; the Florida Bladder Institute, which provides excellence in woman's pelvic health.
Over the past several years, there have been numerous studies showing that surgeons performing a high-volume of surgical cases per week are exceedingly more comfortable and proficient, and have better outcomes than surgeons performing only a few surgical cases per week or month. Dr. Gauta has over 20 years of experience in this area and normally performs close to ten surgeries per week. He is considered a very high-volume surgeon. And with that, comes a great deal of precision, attention to detail and aptitude.
Since opening his practice in 2006, Joseph Gauta, M.D., FACOG is sought out worldwide by patients needing female pelvic medicine and reconstructive surgery. Not only is he certified by the American Board of Obstetrics and Gynecology in the subspecialty of Urogynecology, but his advanced training, commitment to excellence and years of experience enables him to continually provide the best outcomes for his patients.
Recognition
He has proudly earned the Lewis I. Post Award for Surgical Excellence, the Patient's Choice Award honoring the top 5 percent of the most highly respected physicians in America as voted upon by their patients, America's Top Obstetricians and Gynecologists from the Consumer Research Council, Castle Connolly's Top Doctors, as well as the 99th percentile in the Press Ganey, Patient Satisfaction Survey.
Along with his surgical expertise, Dr. Gauta is a urogynecologic preceptor for several medical device companies, Coloplast, Boston Scientific, Medtronic, Olympus, and Cogentix. In this role, Dr. Gauta is a key thought leader and trains physicians from around the world on how to perform the most advanced Urogynecology procedures.
Urogynecology Treatment Options
• LESS surgery
• Pelvic testing & treatment
• Prolapsed organ repair
• Muscle retention repair
• Cosmetic Surgery & labiaplasty
• Solesta injections
• Interstim therapy
• And many more
Florida Bladder Institute
Dr. Gauta has successfully treated thousands of patients with all types of pelvic issues. Please visit their website for more details on all of their procedures and services at www.floridabladderinstitute.com, or call (239) 449-7979 to make an appointment today.