By Heidi Neyra, Owner – Certified Personal Trainer and CCHT
…it can lead to a chain reaction to the rest of the body.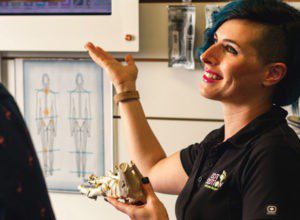 For the New Year, many people make fitness goals their top priority for their resolutions. And like numerous years before, the pitfalls are being overaggressive with workouts, which exacerbates injuries, and derails the whole process.
Another major issue is, often, people start new gym programs or workout programs, but if your feet are not in alignment then you stress your body out too much and create the potential of injury with your feet, knees, hips or back. Proper shoes and arch support will set your foundation in proper alignment. This will then give you proper form from your feet up.
Don't let foot pain and disorders stop your progress. Examples of these can be flat feet, weakened tendons, bunions, hammer toes and overpronation. Getting an accurate assessment and the proper shoes, will help you avoid injuries and other long-term alignment issues.
Foot Solutions of Estero
Feet that aren't properly aligned can throw your body out of balance, causing foot, heel, knee, hip, and back pain. When your feet are healthy and well-supported, you can stride through life with a smile. But even small problems with your feet can cause bigger problems all over- from back, hip and knee pain to constant nagging tiredness – and keep you from doing the things you love to do.
At Foot Solutions, we're specialists in pain relief. We understand the science of foot pain and relief and can help minimize discomfort and relieve pain due to many foot-related conditions.
We have the expertise to help you find the support and footwear to relieve pain, restore body alignment, and give you the energy and comfort to look and feel your best.
Our specially-trained experts will assess your feet, balance, and posture, and find the support and footwear that is the best for you.
Our personalized solutions include:
• Personalized 7-Point Foot Analysis
• Arch Supports
• Expert Shoe Fittings
• High-quality, supportive, stylish comfort footwear for all occasions
Foot Solutions has helped millions of people alleviate pain and live more comfortable lives. We can help you with:
• High arches, low arches, fallen arches, or no arches
• Foot or heel pain
• Knee, hip, or back pain
• Diabetes, arthritis, and other foot-related health issues
• Getting fit and staying active
• Foot changes that come with aging
What can Foot Solutions do for you?
At Foot Solutions, we do just what our name says; we provide solutions. Whether you have bunions, hammertoes, fallen arches or just plain tired, aching feet (or knees, hips or back,) our staff of skilled fitting professionals will be able to help. During your initial consultation we'll use computerized scanning technology as well as perform a gait analysis, and foot evaluation to determine exactly what is going on with your feet. With a broad range of footwear and the most innovative Perfetto™ arch supports and custom inserts on the market today, we'll come up with a solution for minimizing or alleviating your foot and foot-
related pain and discomfort.
Getting your feet evaluated and wearing the proper shoes can make all the difference in your fitness goals and your quality of life!
Visit Foot Solutions of Estero for a free assessment!
239-495-8911 | Footsolutions.com/estero