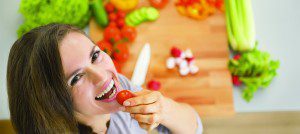 You most likely first heard that phrase from your mother when she wanted you to eat your broccoli on your dinner plate.
She meant that choosing foods high in nutrients would keep you healthy and serve as a preventive measure against disease.
Mom had it right. Food is preventive medicine.
Yet, in the past fifty years, advancements in technology and Western society's increasing desire for a quick fix has led us into a labyrinth searching for the right doctor with the magic pill to cure our dis ease.
Disease is a lack of harmony in your body. We need to participate in our own well-being. What we put in our mouth matters.
As a nation, nutritionally we are the most unnourished than we ever have been. How can that be true if we have access to food 24/7? If we accept the fact that what we eat determines our health, then we must add that in no periof of our history as a nation have Americans eaten so poorly, a statement that is proven.
Heart disease and cancer once rare have struck the nation with increasing frequency, in spite of the billions of dollars in research to combat them, and in spite of the tremendous advances in diagnostic and surgical techniques. Other degenerative diseases- arthritis, multiple sclerosis, digestive disorders, diabetes, osteoporosis, Alzheimer's, epilepsy and chronic fatigue-afflict a significant majority of people. Today, chronic illness challenges nearly half of all Americans and causes three out of four deaths. These diseases formerly struck the older generation now afflict seven million young adults and children.
What if you could learn how to slow, reverse, or prevent illness from your body through the education of eating right? YOLLO Wellness has the highly trained nutritionists and the state of the art testing for foods that cause your pain and inflammation which directly cause disease. This is done with the ALCAT test.
What is ALCAT intolerance testing?
ALCAT is the world-wide leader in food and other intolerance/sensitivity testing. Intolerances to food and food additives have been linked to digestive problems, migraines, joint and skin problems, ADD, and other medical conditions. The ALCAT Test measures your intolerances using a proprietary technology that measures how your white blood cells respond when exposed to different foods.
YOLLO Wellness offers ALCAT testing. This test takes your health to a whole new level. This specific testing can and will change your life. This highly definitive test will let you know what foods, additives, and environmental chemicals you need to avoid helping to prevent negative reactions at the cellular level. Half the battle to healthier living is won once you know what foods to avoid. You also have to become in tune with what amount of the proper nutrients your body requires and this can be a challenge but very achievable. Certain supplements and foods can benefit  your overall health  tremendously. At YOLLO Wellness our professional  certified nutritionist will guide you step by step to help you change your eating habits and eliminate the  things that are causing stress and throughout your body and preventing you from achieving optimal health.
February Hot Deals
Nutrition Plan with ALCAT Includes:
. Platinum Panel (most comprehensive panel- includes 250 foods, medicines, antibiotics, molds, preservatives)
. DVD on how Foods can be your medicine to heal
. Lab fees – in house blood draw & processing
. Unlimited Nutritional Consultations
. Live Cell Blood Analysis with each nutritional consultation
All for Only $1,099.
YOLLO Wellness
3840 Colonial Blvd, Suite 2, Ft. Myers, FL 33966
(239)275.0039
www.YOLLOWELLNESS.com