By Dr. Marc Havig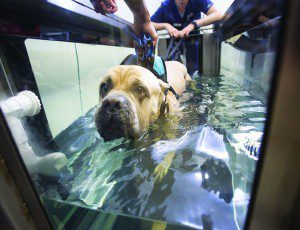 Physical rehabilitation is a relatively new area of veterinary medicine that has become essential in providing animals the best chance at a full recovery from surgical, arthritic and chronically debilitating diseases and conditions. Much like humans, animals require physical rehabilitation to recover muscle strength and joint flexibility following an injury or long-term disuse. Animal rehabilitation also reduces pain caused by geriatric and degenerative diseases.
Canine physical rehabilitation deploys similar techniques to human physical therapy. These include therapeutic exercises, manual therapy, hydrotherapy and electrical muscle stimulation.
Although not as common as canine physical rehabilitation, feline physical rehabilitation is also available. Cats can experience the same lasting benefits as man's best friend. (Of course, if you're a cat person, then let's say man's second-best friend.)
So, how do you know if physical rehabilitation is a good fit for your pet? Animals recovering from orthopedic or soft tissue injuries; osteoarthritic or overweight pets; and working or athletic canines can all potentially benefit from a rehabilitation program. Companion animals that have had recent surgical procedures can return to full function more quickly. Often, we begin working with our post-operative patients almost immediately after surgery to improve range and quality of motion, as well as increase muscle strength and endurance.
Professionals within the veterinary field who perform physical rehabilitation must undergo advanced training in order to receive appropriate accreditation. At the Animal Specialty Hospital of Florida (ASH), physical rehabilitation team members have all completed coursework to achieve the formal designation of Certified Canine Rehabilitation Practitioner (CCRP).
ASH's physical rehabilitation suite is equipped with an underwater treadmill and a therapeutic ultrasound. To treat patients, the CCRPs conduct transcutaneous electrical nerve stimulation; massage; heat and cold therapies; strength and conditioning exercises; and balance, coordination and gait training.
Since ASH is a specialty referral hospital, its staff complements – not competes – with your pet's primary care veterinarian. We work alongside your clinician to provide the most comprehensive, well-rounded care for your beloved pet. Upon your veterinarian's referral, the client services team will schedule an initial consultation. You will meet with our Certified Canine Rehabilitation Therapist, and she will thoroughly examine and evaluate your pet. She will make recommendations based on the individual needs of your pet and your family and create a tailored therapy plan. Once you collectively identify and agree to a treatment strategy, we will set up a schedule of rehabilitation sessions and begin therapy.
Physical rehabilitation is an integral part in hospitalized, post-operative orthopedic, and debilitated critical care patients. With special programs designed for sports medicine, performance optimization and fitness and weight management, physical rehabilitation can vastly improve your pet's quality of life.
About the Author:
Dr. Marc Havig, Diplomate, American College of Veterinary Surgeons, is a surgeon and owner at Animal Specialty Hospital of Florida. He is the Vice President of the Collier County Veterinary Society, and he received his Canine Rehabilitation Certification in 2010. Dr. Havig specializes in small-animal surgery and has a special interest in canine sports-related injuries.
ASH
10130 Market Street, Naples, FL
239.263.0480 | www.ASHFL.com