By Eric M. Folkens, M.D., Family Medicine, Bradenton/Lakewood Ranch/Sarasota Urgent Care Walk-In Clinics –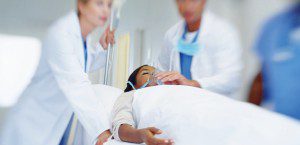 When you have a life-threatening situation, such as chest pain, or a sudden and severe pain, the emergency department of the nearest hospital is the only option.  If you went to an urgent care clinic, they'd just send you on to the ER in an ambulance.  But if your condition is less serious, but still requires immediate attention, choosing an urgent care facility can save you loads of time and money, as well as keeping the emergency room free to handle more serious situations.
If you are sick or have hurt yourself but it is not life threatening then an urgent care clinic is a convenient place to go to be seen by a doctor as quickly as possible. For example, if you have a sprained ankle, or an ear infection, you may end up waiting for many hours in the emergency room and paying hundreds of dollars.  Most urgent care centers are open for extended hours, and will be able to accommodate you more quickly.
You may have heard of an urgent care center but maybe you aren't aware of all the things they can help you with when you need medical attention. Here we look at what such a center is all about.
Urgent care, as the name implies, is medical help that can be sought right away. It is defined as being the delivery of ambulatory care in a facility dedicated to the delivery of medical care outside of a hospital emergency department, usually on an unscheduled, walk-in basis. These centers are primarily aimed at treating patients who are suffering from a sickness or injury that warrants attention immediately but it is not serious enough to require a trip to the ER. This could be everything from getting cut by your pet to developing an earache to an upset stomach to a fever or a sore throat.
These care centers are becoming more and more popular all of the time. Many of them were started by emergency room doctors who have responded to a need from the general public in terms of medical care that offers convenient access, does not involve long wait times and is unscheduled.
The Urgent Care Clinics in Bradenton, Lakewood Ranch, and Sarasota can provide many medical services for the residents of these communities. These are walk-in urgent care centers that have extended operating hours and no appointment is necessary to be seen by a physician. The experienced doctors that work at the facilities provide treatment for all of the conditions that are deemed as urgent but non-life threatening. This could be a cut or it could be an infection. It could be a virus or it could be a broken finger.
Digital X-rays are also conducted at these immediate care medical facilities. If you do not know whether your wrist is sprained , fractured or broken than an on-site X-ray will provide the doctor you see as well as yourself with the answer. In fact the results of the test are interpreted during your wait.
If you would like a copy of your X-ray it can be made available to you to take to either your family doctor or a specialist that you are seeing.
In short, an Urgent Care Clinic can help with all of your urgent care needs including: Sore Throats, Flu/Fever, Coughs & Colds, Urinary Infections, Nausea & Vomiting, Ear Aches, Sinus Infections, Lacerations, Sprains & Fractures, High Cholesterol, High Blood Pressure, Diabetes, Eye Injuries,
Flu Shots and much more.
Medicare and many insurance plans are accepted at most urgent care centers. Some clinics offer lower rates for the self-pay patient, which is important for those without insurance or high deductibles.
If you find yourself needing medical care but can't get an appointment with your primary care physician and you don't want to spend hours waiting in the hospital emergency room, Urgent Care Clinic offers increased convenience with in-house X-rays and EKG's and cost savings. There are three convenient locations serving the Bradenton, Lakewood Ranch, and Sarasota communities.
When you need to go to the Emergency Room:
If you have a serious condition – stroke, heart attack, severe bleeding, head injury or other major trauma – go straight to the nearest ER. Don't take a chance with anything life threatening. The ER is the best place for these and other critical conditions, including:
• Chest pain
• Difficulty breathing
• Severe bleeding or head trauma
• Loss of consciousness
• Sudden loss of vision or blurred vision
When an Urgent Care Center can better meet your needs:
• Minor burns or injuries
• Sprains and strains
• Coughs, colds, and sore throats
• Ear infections
• Allergic reactions (non life-threatening)
• Fever or flu-like symptoms
• Rash or other skin irritations
• Mild asthma
• Animal bites
• Broken Bones
When in doubt, call ahead. If the urgent care clinic in question can't accommodate your condition, they will advise you to go the nearest emergency facility.
Remember, urgent care clinics are also a resource for flu shots, and physicals for sports or school.
Sarasota Urgent Care
6272 Lake Osprey Dr., Sarasota, Fl 34240
(941) 907-2800  |  www.SarasotaUrgentCare.com
Facebook: Facebook.com/SarasotaUrgentCare
Lakewood Ranch Urgent Care
9908 S.R. 64 East, Bradenton, Fl 34212
(941) 747-8600  |  www.LWRUC.com
Facebook: Facebook.com/LWRUC
Bradenton Urgent Care
4647 Manatee Avenue West
Bradenton, Fl 34209
(941) 745-5999  |  www.BradentonUrgentCare.com
Facebook: Facebook.com/BradentonUrgentCare