By Dorothy Minichiello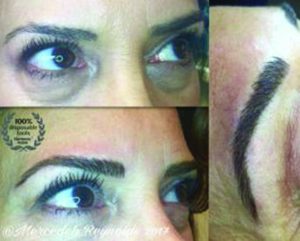 Eyelash extensions have become increasingly popular over the past decade. Vintage Lashes in Naples, FL is well known for their expertise and cutting-edge design in eyelash extensions and permanent makeup.  But buyer beware, not all eyelash extensions are the same.
The Eyelash Extension Difference
At Vintage Lashes, their expertise in the field, Dorothy Minichiello, is also the owner of the studio.  She is a Licensed Cosmetologist, (Certified), Advanced Lash Artist, Lash Mastery Educator.  Dorothy was one of the first Lash Artists in the United States to earn a Certification in 6D Russian Volume Technique™.  She is proud to be one of five Floridians certified in providing damage free lash artistry in the eyelash extensions industry.
Damage free lash artistry is not an easy undertaking; only a highly qualified and multi-level certified, licensed individual should be trusted.  With other subpar techniques, the skin can be irritated, and the use of incorrect weight and length of lash extensions (and too much adhesive) weigh down your natural lash and cause damage to  hair follicles, causing eyelash destruction.  With Vintage Lashes, you can rest assured that they have the advanced skill level of protecting you and giving you the full, long lashes that you desire.
Vintage Lashes offers a wide variety of individual semi-permanent lashes and limitless styles.  Their lash extensions are virtually weightless & curved to replicate a natural eyelash.  They are typically applied one-by-one to a natural lash approximately 1 mm from your lash line.
With the new addition of the 2D-6D Russian Volume Lashes, which are extremely thin, fine lashes, they are applied to each natural lash, so that nothing touches your eyelid tissue.  With endless lash extension varieties you can choose from a soft natural look or all out red carpet glamorous style. Their lash varieties are from some of the most highly regarded companies, assuring you of getting a premium product application.
Vintage lashes extension adhesives are long lasting, low fume, and medical grade. Your lashes will be "cured" at the end of your application so you will be able to wash them the same day.  The curing process cuts the chance of any itching or irritation significantly because the adhesive will harden immediately.  Curing is recommended so you have no "downtime" and less risk of sensitivity.
Permanent Makeup
With a trusted, experienced Lash Extensions Artist and Master Permanent Makeup Artist you can be confident that you will have a pleasant, safe & sanitary experience. The permanent makeup specialist, Mercedeh Reynolds, has several certifications in all areas of advanced micropigmentology.  Mercedeh received her Esthetician License in Permanent Makeup Artistry in 2005. She takes great pride in offering high-quality, customer-centric services.  Mercedeh offers many services including eyebrow microblading, permanent makeup, including eyeliner and lips and much more.
One of the most popular services is eyebrow microblading.  As we age or fight disease and disorders like alopecia and cancer, our eyebrows can become thin.  The eyebrow is the main frame to our eyes and gives balance to our faces, so when the brows are diminished, getting them permanently filled in with an entirely natural look is imperative.  Tiny strokes are carefully sketched to give your brow a "born with look."  For the month of July, Mercedeh is offering a discount to her clients.  The standard price for eyebrow microblading is $800.  This includes a free touchup, but only until July 31st; Vintage Lashes is offering a $100 discount.  For the experience and quality of Vintage Lashes Eyebrow Artistry by Mercedeh, this is a very significant discount.
 
Celebrity Makeup Artist
Additionally, Vintage Lashes has a Celebrity Makeup Artist on staff, Mr. Georgio Fernandez.  He does extraordinary makeup for a special event, or a night out on the town, and he is also highly trained in applying eyelash extensions. With an impressive celebrity clientele list, Georgio understands the importance of treating all of his clients with respect and value to keeping them looking and feeling fabulous.
Because Vintage Lashes is highly regarded and prides themselves on being on the cutting edge, their artists are all required to have advanced training, multiple certificates, and many years of experience.
To book your appointment, view their gallery of before and after photos, or to find out more, please visit their website at VintageLashes.com
89 9th Street South,
Naples, FL 34102, USA
239-263-1050
www.VintageLashes.com
TheHealthyGlow@gmail.com