By Chris Simeone, OTR/L, Certified Vestibular Therapist, American Institute of Balance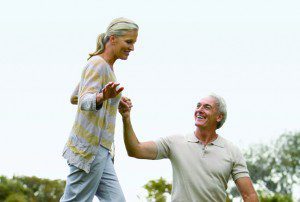 Human equilibrium is the result of several complex systems working together. We "absorb" information to maintain our equilibrium through three main channels: the eyes (vision), the ears (vestibular) and the feet (somatoscensory).  The brain compares this incoming information. In split seconds it  produces coordinated eye, head and postural changes regardless of the movement we are involved in to remain "in balance". Balance problems can occur anywhere along this chain. Conditions such as a Stroke, Diabetes orthopedic conditions, improper balance organ functioning of the inner ear and even certain medication use can cause symptoms. These could include Vertigo (intense feeling of spinning or falling), Dizziness (light headed, not surefooted, woozy) with or without impaired postural control (imbalance) altering our human equilibrium.
According to the National Institute of Health, dizziness is the number 1 complaint of people over 70 years old. This can cause a disruption in performing the most basic daily task and may cause the inability to enjoy the things we like to do, especially here in Southwest Florida! The risk of a fall with or without injury will trigger greater fears limiting your participation in daily life's routines. However, according to Johns Hopkins, 85% of all forms of dizziness and imbalance can be helped with a proper diagnosis.
Clinic Program:
The balance and vestibular training program requires each patient to have a physician's referral for Vestibular Therapy. The program will evaluate the patients current balance function and its negative effect on performing daily life routines.  A customized clinic and home program utilizing the American Institute of Balance protocols specific to the patient will be implemented. Clinic treatment may include maneuvers of the patient's head, core strengthening, balance and postural awareness training and visual motor training to name a few. The patients' diligent performance of the daily home program is vital to improving function.
For more information please call the Outpatient Center of Life Care Center of Estero 239-495-4046.
Assess yourself with the American Institute
of Balance Patient Self Quiz
Have you ever felt?
1. A feeling of motion, spinning, or falling when moving your head quickly or changing your position, e.g., getting out of bed?  YES/NO
2. Uncomfortable getting around in the darkness?  YES/NO
3. Walking down grocery store aisles or through the mall upsetting?  YES/NO
4. Your feet just won't go where you want them to?  YES/NO
5. A sense of unsteadiness? A feeling you are not surefooted?  YES/NO
6. A fear of falling or stumbling?  YES/NO
7. Looking at moving objects such as escalators or looking out the side window of the car makes you queasy?  YES/NO
8. Difficulties keeping your balance as you walk on different surfaces, e.g. tile to carpet?  YES/NO
9. A feeling you are drifting or being pulled to one side when walking?  YES/NO
10. No one really understands how frustrating this all is?  YES/NO
If you have answered YES to one or more of these questions a vestibular and equilibrium evaluation should be considered.
Life Care Center of Estero | 239.495.4000 | 3850 Williams Rd. | Estero, FL 33928 | www.lifecarecenterofestero.com