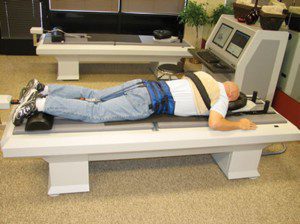 VAX-D (Vertebral Axial Decompression) is a revolutionary, non-invasive treatment for patients who suffer from chronic low back pain, as well as leg pain and numbness caused from herniated or degenerated discs and posterior facet syndrome. Patients who have had back surgery, yet continue to experience low back pain and/or sciatica pain, may also be candidates for VAX-D.
Physicians Rehabilitation understands that back pain can disrupt the lives of his patients, making it difficult for them to complete simple tasks or enjoy certain activities. While back pain is usually treated with a combination of therapies, including medication, bed-rest, chiropractic care, physical therapy and exercise, many of these treatments only temporarily reduce symptoms.
VAX-D is the only medical device that delivers treatment through its patented logarithmic decompression curve. The treatment is designed to relieve pressure on structures that may be causing back pain usually associated with bulging or herniated discs and degenerative disc disease. VAX-D is safe and effective and does not involve the risks associated with surgery or injections also used to treat chronic back pain.
How is VAX-D Performed?
Prior to VAX-D treatment, patients are fitted with a patented 'pelvic harness' and are then placed in a prone position on a VAX-D table and console (patients remain fully clothed during treatment). The VAX-D Therapeutic Table and Console technology applies and maintains a baseline tension of 20 to 24 pounds to the patient's pelvis throughout the treatment session (even when at rest). Distraction cycles then move from the 20 to 24 pound range up to a pre-determined tension based on the patients' condition.
During treatment, patients utilize handgrips to extend the arms above the head (like hanging from a bar) to stabilize and restrain the upper body during lumbar distraction. The pneumatic-hydraulic cylinders of the Table are used to separate the lower table section from the upper section and apply tension to the patient's pelvis.
VAX-D differs from conventional mechanical traction in that it does not treat patients in the face-up position and does not use a chest harness, which tends to restrict breathing and may interrupt blood-flow return to the heart.
Many patients will notice a benefit early on in the treatment protocol, and as treatment progresses, they will experience a continual reduction of symptoms.
Length of Treatment
Treatments are administered by a trained technician and each session lasts approximately 45 minutes. The number of treatments needed will vary by patient depending on how severe the condition is and how the patient responds to treatment. Once the initial sessions are complete, patients should continue to receive one session per day for 4 weeks. Some patients may be able to receive treatments twice a day, but they should be scheduled as far apart as possible.
Patients whose back pain includes inflammation may be prescribed non-steroidal anti-inflammatory agents or other medications. Patients who have tumors, bone fractures or osteoporosis are not candidates for this treatment.
VAX-D clinics have successfully operated for more than ten years in the United States, as well as in Canada, Puerto Rico, Mexico and Australia. More than 3,000 patients each day receive VAX-D therapy in the United States, with studies reporting levels of successful treatment in the range of 70%.
Interested in VAX-D treatments? Please call Physicians Rehabilitation at 239-768-6396 today. Don't spend another day in pain, when there is a successful treatment available!
239-768-6396 | www.PhysiciansRehabilitation.com