By Physicians Rehabilitation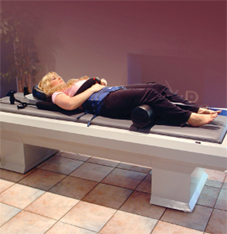 Chronic pain is one of the most debilitating health conditions. Studies show that back and neck pain is often recurrent even if the original problem resolves, many patients suffer chronic symptoms at intervals. Chronic back and neck pain sufferers often live a life of compromise in their daily activities. Back and neck pain is frequently treated in an episodic manner.
Treatment options for both back and neck pain include drugs, heat and cold, bed-rest, chiropractic/ manipulation, physical therapy, exercises, acupuncture, local epidural injections, prolotherapy, IDET (Intradiscal Electrothermal Therapy or heat cauterization with an electrothermal catheter) and the various types of surgery. Many of these are simply aimed at providing temporary reduction of symptoms without altering the underlying disease process or addressing the pathophysiology associated with lumbar discogenic disorders.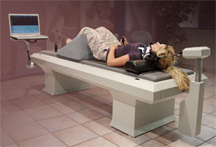 Surgical decompression of intervertebral discs has been established for the management of low back pain and sciatic pain in selected cases. Surgery may disrupt the natural biomechanical functions essential to preserve pain-free spinal mobility. The majority of LBP patients are not ideal surgical candidates, and surgery in the poorly selected patient can lead to 'failed back syndrome'.
Before resorting to a surgical approach, it makes sense to try a conservative procedure, VAX-D. It is known that the many forms of 'traction' and gravity inversion have not demonstrated the ability to lower the intradiscal pressure. Clinical study has now documented VAX-D's ability to lower intradiscal pressure (Ramos G., Martin W. Journal of Neurosurgery).
Decompression of the discs and spinal structures is achieved under precisely controlled, monitored conditions with no invasion or disruption of the spine's normal biomechanics. VAX-D Genesis is a new computerized treatment for chronic neck pain, low back pain and sciatica. The treatment is safe and effective without the risks of injections, anesthesia or surgery. VAX-D treatment is designed to relieve the pressure on the structures that may be causing chronic spinal pain. It can relieve the pain associated with herniated discs, degenerative disc disease, and sciatica. VAX-D is the only back treatment device that has been shown to decrease the disc pressure in clinical research.
VAX-D distracts the spine, taking the pressure off of the discs and spinal nerves, and allows the back to heal itself. Many patients experience a relief of their pain and other symptoms during the treatment sessions, and then a gradual reduction in symptoms as treatment progresses. Patients find the treatment to be comfortable and relaxing. All treatments are administered with patients fully clothed. Clothing that separates at the waist and that can be loosened at the wrists and neck is most comfortable.
Many patients are not satisfied with the effectiveness of the treatment choices offered like drug therapy, chiropractic, physical therapy, exercise, acupuncture, injections and surgery. If you are suffering with chronic pain, VAX-D may be the answer you have been looking for. Study after study shows how VAX-D's patented decompression system is helping pain sufferers to significantly reduce their pain and avoid expensive surgery. People that were once forced to compromise their daily activities can now live pain free lives.
Many centers that provide VAX-D therapy do so with a one-size fits all mentality and without other complementary modalities such as physical therapy. Physicians Rehabilitation is one of the few treatment centers that offers VAX-D therapy in combination with physical therapy. It is believed that this blended treatment results in the best outcomes for patients. Not only does Physicians Rehabilitation offer complete comprehensive treatment for chronic neck and back pain, they do so with the best prices in the area!
For more information on VAX-D treatments and pricing, or to make an appointment please call 239.687.2165.