By Michael J. Rodriguez, MD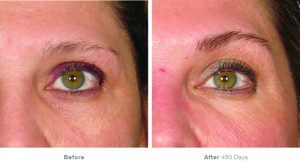 If you are one of the 72 million plus Baby Boomers out there, you are beginning to experience some new challenges in the quest to remain youthful. Baby Boomers are the first generation to focus on and understand the value of exercise and diet to keep our bodies healthy for the upcoming golden years. We have exercised and dieted ourselves into exhaustion to avoid the aging process.
Throughout this process as we try to tighten and tone our bodies time and gravity work against us. Regardless of how much time and energy we put into being fit, we just can't avoid the changes that come with aging.
One of our first and most noticeable sign of aging is that sagging skin on our face and neck. As we age, we all experience a natural loss of our skins elasticity.
Although we have maintained a healthy lifestyle we are all subject to this process. We may feel thirty, our bodies may still look thirty, but our faces look worn and tired. This process happens regardless of how healthy or fit we may be. Our generation is living significantly longer and remaining very active well beyond that of previous generations.
The stress of our fast paced daily life, gravity and the sun exposure we experience from our active lifestyles all contribute to make us look old and tired, long before we are ready to. Unfortunately, there aren't any exercises that can remedy this aging process. Some say that the sagging skin can add ten to fifteen years to our looks.
As a cosmetic surgeon, specializing in the face, I have used a variety of non-surgical or non-invasive technologies for the tightening and lifting of the skin on the neck and face. Until now, the results of existing treatments have not been able to meet my patients expectations.
Fortunately, a new unique technology developed using ultrasound may be the answer we have been looking for. The treatment is called Ultherapy and it has provided a tool to achieve the outcomes that have not yet been available non-invasively. This recently FDA Cleared device, in my opinion, may certainly be a first option for individuals, prior to having a surgical face lift. Many individuals choose not have surgery, either due to a concern for the risks involved or due to health reasons.
The Ulthera device, works by the means of ultrasound (sound waves) to safely penetrate the skin and treat the foundation layer of muscle and tissue that holds your face up. The machine is unique (only manufacturer currently with this technology) in its ability to reach this foundation layer without creating any heat or feeling on your skin. The ultrasound used is unique in its ability to focus its energy to treat the same foundation layer of the face (called the SMAS), that a face lift surgery does without the risk, recovery or downtime. Patients can have this done in the office in about an hour and return to work the same day. There is no recovery period, so individuals do not need to miss work or avoid the sun after the procedure is finished. The primary reason for this, is that the ultrasound is working from the inside out, versus the other technologies that work from the outside of the skin. While the treatment is performed an ultrasound screen shows the operator, exactly where they are delivering the energy, so they are able to focus energy exactly where it is needed. The ultrasound can produce much stronger energy below the surface of the sign, which creates a significant production of collagen and elastin. The result of this is a lifting, tightening and also a change in the skins external texture, leaving a refreshed and more youthful look.
I believe that this technology is the best available option other than surgical intervention. Our patients have been overwhelmingly satisfied and surprised at what this safe alternative can provide for the lifting of the neck, jowls and eyebrows.
As one of the early adopters of this technology, we have performed the treatment on over one thousand patients and are a Ultra Premiere Partner for Ulthera. We offer a free consultation, to determine if you are a good candidate for this treatment. Call today at 1-239-449-0187.