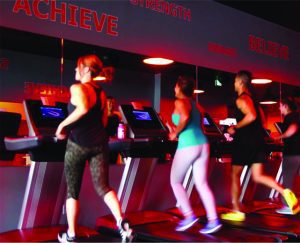 There's a good chance that you've heard of OrangeTheory Fitness before, and that's because this studio-gym chain is growing like crazy. It's been called "The Ultimate Workout," "The Best One-
Hour Workout in the Country" and a "Plateau-Busting Workout," and there is a reason for those awesome accolades.
WHAT IS ORANGETHEORY FITNESS?
Orangetheory Fitness is a franchised chain of studio gyms, which offer nothing but classes broken up into both cardiovascular- and strength-training intervals. The company is headquartered in South Florida and was created by a trained physiologist named Ellen Latham. People can pay to take drop-in classes one-at-a-time or join a studio as a member, by purchasing packages of anywhere from four-to-unlimited classes per month. The class includes work on the treadmill, the indoor water-rower and the weight-room floor with various equipment. And all participants wear a heart-rate monitor, with real-time readings showing on monitors in the studio during class. This is not-your-average corporate gym. Orangetheory Fitness locations are small enough to provide a very community-feel, where members, Fitness Coaches and Orangetheory Fitness (OTF) associates get to know each other very well. Most classes have no more than 24-26 participants.
WHAT ARE THE BENEFITS OF AN ORANGETHEORY
FITNESS WORKOUT?
• Improved total-body conditioning
• High caloric burn
• Improved muscle endurance, strength and power
• Improved agility and coordination
• Improved speed
• The chance to work with and get familiar with different types of equipment
• The energy of group training, with the special attention of personal training
WHAT DOES AN ORANGETHEORY FITNESS
WORKOUT CONSIST OF?
A typical Orangetheory Fitness workout is about 55-60 minutes in length and includes both cardiovascular – and strength-training intervals broken up into blocks with breaks in-between. Participants are split into two groups, with one group beginning on the treadmills and one group beginning on the indoor water-rowers. Although participants start in different places, they will each get the chance to experience the same total workout throughout the one-hour class.
Each workout usually amounts to about 26-28 minutes on the treadmill (or the bike or strider, if you're not a fan of the treadmill), and about 26-28 minutes on the weight-room floor, using a variety of equipment.
WHAT IS DIFFERENT ABOUT ORANGETHEORY
FITNESS THAN OTHER GROUP FITNESS CLASSES?
• TECHNOLOGY! First and foremost, all participants in an Orangetheory Fitness class must wear a heart-rate monitor. First-time students are able to borrow one from the studio, but regular members must purchase an Orangetheory Fitness strap and heart-rate monitor, which they can keep as their own. This totally changes the tone of class, because everything is backed up by data. And even better, you get an email with your results automatically after each class.
• SCIENCE-BACKED HEART-RATE TRAINING! During the class, participants can watch their heart-rate and see how many calories they are burning throughout the class on big TV displays in the studio. The Fitness Coach will talk participants through what heart-rate training zones they should be in at a certain time and what that should feel like. With research, the team at Orange-
theory Fitness has proven that training for a specific amount of time in particular zones will give you the best results.
• EXCESS POST-EXERCISE OXYGEN CONSUMPTION: EPOC is a common term in the fitness world, and it is super important in Orangetheory Fitness. Participants are coached to work about 12-20 minutes in the fourth and fifth heart-rate training zones, which is where high-intensity interval training takes place in the anaerobic state. Based on this exertion, participants will continue to burn calories at a higher rate after they walk out of class, 24 to 48 hours later, which is a totally awesome benefit!
• GROUP, PERSONAL TRAINING! Because the class sizes are kept small, Fitness Coaches in Orangetheory Fitness are able to spend time correcting form, coaching and working with every single participant in class, so you get the benefit of personal training, along with the energy of group training. A win-win!
• VARIETY! No workout includes such variety of equipment than Orangetheory Fitness. One day you could be using a treadmill, an indoor water-rower, a TRX strap, a BOSU Trainer, medicine balls, dumbbells and even an Ab Dolly, just in the course of an hour. You will never get bored in an Orangetheory Fitness workout.
• SAFE FOR ALL LEVELS! This class is designed for all fitness levels and anyone can do it. Because Orangetheory Fitness offers a variety of options for participants to be a Power Walker, Jogger or Runner on the treadmill and work at their own pace on the weight-
room floor, people of all exercise backgrounds can benefit and get a great workout in the same class.
• IT'S ADDICTING! People are falling in love with Orangetheory Fitness for the results it brings them. It's not uncommon to see a bunch of participants in class sporting their Orangetheory pride in the form of branded gear. Each studio also hosts weight-loss challenges and special events to make working out even more fun, so you really feel like you're part of something big.
Everyone, from all fitness levels, can benefit from the OrangeTheory workout. It is different from all the other programs you have tried. It's unlike any other workout because it incorporates science-backed heart-rate training principles and technology.
Stop in today and try a class for free! You won't be disappointed!
OTF Gladiolus
11600 Gladiolus Drive, Unit 317
Ft. Myers, FL 33908
Call 239.243.0730
OTF six mile cypress
8001 dani Drive, unit 6
ft. myers, fl 33966
call 239.292.5826