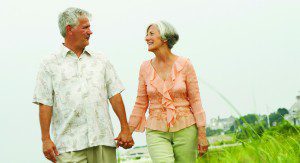 As we age, our mental health is more important than ever. Dementia and Depression are key concerns with an aging population. The continued independence of our elders can be greatly enhanced with knowledge and foresight.
Dementia actually describes a group of symptoms that affect one's mental and social abilities to the point that they interfere with everyday life. Symptoms of dementia can vary; however, the general functions that become impaired are our memory, communication and language, ability to focus and pay attention, reasoning and judgment, and visual perception (Alzheimer's Association). If at least two of these apply, there is a high probability of dementia. Dementia cannot be diagnosed by one test. Factors such as medical history, physical examination, laboratory tests, thinking characteristics, and day-to-day function come into play. The most prevalent type of dementia is caused by Alzheimer's. 60-80% of dementia cases result from this disease.
Depression can be caused by many different reasons. Having many personal losses in a row can often be the case for the elderly. Elderly women are more common to have depression than elderly men. For woman the lifetime risk is 20-25%, while it is only 7-12% for men (GenneX Healthcare Technologies). Symptoms for depression are sadness, fatigue, weight loss/loss of appetite, sleeping disturbances, loss of self-worth, and abandoning interest in hobbies. However, many elderly may not complain about being sad. Complaints of low motivation, lack of energy, or physical problems, like arthritis pain or worsening headaches, are symptoms of depression.
Challenges like Dementia and Depression can come whether we want them to or not. Fortunately, if we get a positive mindset, they don't have to be too severe (Saisan, 2014). Here are some tips to help cope with mental health struggles:
•    Focus on the things you are grateful for.
•    Accept the things you cannot change.
•    Acknowledge and express your feelings.
•    Take daily action to deal with life's challenges.
•    Stay connected with family and friends.
•    Maintain your energy and health by eating right.
•    Foster a regular exercise routine.
•    Maintain good sleeping habits.
Age is inevitable, but our loss of independence doesn't have to be. Lately, there has been a new trend in helping people keep their independence while getting the care that they need. A new type of Assisted Living Facility has become more prevalent throughout the community. A Banyan Residence, in Venice, strives to empower their residents and encourage independence by offering an environment that allows for the safety of a secure facility, yet allows residents the freedom to navigate the grounds to enjoy a tranquil and homelike surrounding.
Changing to a positive, active, and social lifestyle is the best treatment for mental illnesses. A Banyan Residence Assistant Living Resort understands this.
If you have any questions regarding assisted living, feel free to contact Chris Snider at 941-822-3420. They are located at 100 Base Ave E, Venice, FL 34285.
A Banyan Residence has the following features to do so:
• Custom Shuttle
• Monthly Newsletter
• Spa Day
• Walking Club
• Physical Therapy Room
• TV satellite service
• Movie theatre popcorn
• Family & Friends BBQ
• Tropical Garden
• Fruits & Vegetable Garden
• Walking Club
• Waterfall
• Physical fitness activities
• Salon Room
• Custom Shuttle Bus
• Koi Fish & Duck Pond
• Butterfly Garden
• Special Events: Annual Red Carpet Fashion Show